Official Development Assistance (ODA) Data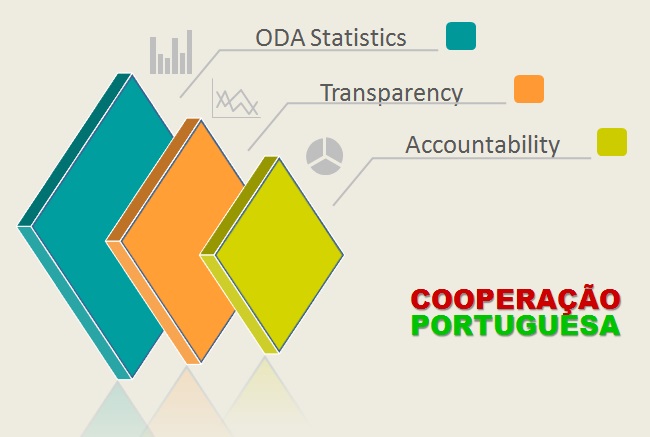 Click on the image to access the Information System
Camões, I.P. makes available the Integrated Information System for Portuguese Cooperation.
It is an online database that provides information on Official Development Assistance (ODA) both in aggregate terms (Global Data) and by project. The data is available both in Portuguese and in English, in €uros and US dollars, for a certain time period.
In the light of the good practices (both national and international) regarding transparency, accountability and communication, of the DAC Main Findings and Recommendations to Portugal and, of the several commitments that Portugal has been undertaking in this field, this new system stands as an important "result" within the progresses made so far.
Main Characteristics of Portuguese Official Development Assistance (ODA)
ODA volume and evolution 2013-2017
After a rise in 2010 and 2011, Portuguese ODA started to decrease sharply in 2012. The main reason for this is the fact that Portugal was involved with a financial assistance programme until June 2014. Nevertheless, 2015 also witnessed a downturn with a decrease of 14% compared with 2014, representing a net value of 279 M€. The recovery occurred in 2016, with a growth of 11% over the previous year, which corresponded to a total ODA of 310 M€, matching with a recovery phase of economic growth in Portugal. In 2017, the growing trend was confirmed with ODA reaching 338 M€.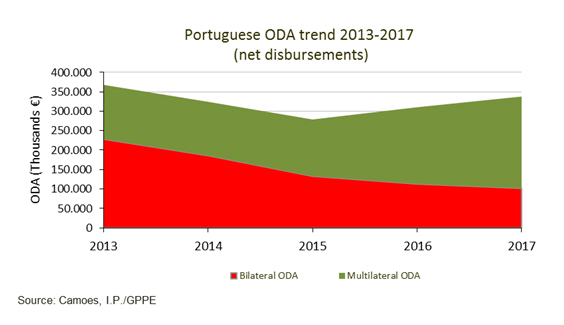 In 2011, Portuguese ODA rose 3.9% compared with 2010 despite the economic unfavorable circumstances. 2012 was a year marked by budgetary restrictions that defined a decrease both in bilateral aid (9.9%) and multilateral aid (13.9%). Similarly and for the same reason, 2013 saw a decrease of 26.2% in bilateral aid, with a global ODA decrease of 18.6%. 2014 saw a global decrease of 11.8%, which was not as steep as in the previous year, in both bilateral and multilateral aid. The ODA bilateral aid in 2015 was of 133 M€, which represents a decrease of 28% considering 2014. The multilateral ODA increased 5% to 146 M€. In 2016, despite a rise in Total ODA to € 310 M€, there was a decline in bilateral ODA (-15%), counterbalanced by a rise in the multilateral component (+35%). In 2017 the trend of the previous year is confirmed, with a decrease in bilateral ODA (-10%) and a rise in the Multilateral component (+20%), and overall ODA growth (+9%).

Compared with 2010, ODA growth for 2011 resulted from an increase in bilateral aid where the concessional lines of credit and loans to the partner countries of Portuguese co-operation accounted for a significant part of total ODA. To a great extent, this type of aid also influences the annual variation of bilateral ODA. The negative ODA trend since 2012 can be explained by the general financial reduction of Portugal's total flows (due to budgetary restraints) and by the repayment of Angola's debt to Portugal, which began in 2009. In the last 3 years, the lower use of concessional credit lines / loans by the partner countries, as they are in the final stage of disbursement, contributed to the negative variation.
The amount of multilateral ODA in 2015 confirmed some stabilization during the previous four years. However, 2016 was marked by a notable positive variation in this component up to 197 M€ (146 M€ in 2015), explained by the increase in the contribution to the European Commission's Development Share of Budget, as a result of the implementation, at the end 2016, of new rules on own resources. In 2017, although less pronounced, the rise of Multilateral ODA continued, surpassing the 200 M€ barrier (236 M€).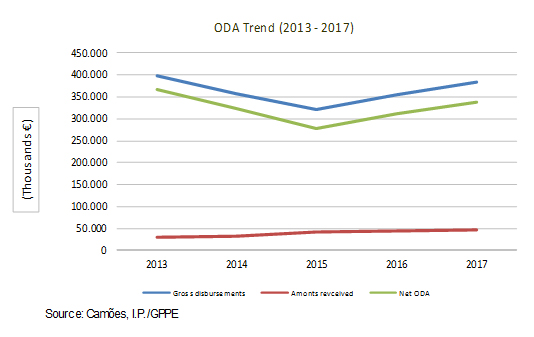 The percentage of Portuguese ODA in relation to Gross National Income (ODA/GNI ratio) stood at 0.18% in 2017, representing a slight growth compared with 2016. The decrease of the previous four years reflected the effects of the economic and financial adjustment programme which Portugal was subjected to, as well as fewer use of concessional lines of credit/loans available to partner countries. The recording of an ODA/GNI ratio of 0.18% in a year marked by economic growth, which is reflected in a higher GNI, represents an additional effort on the part of the Portuguese ODA.
On average, between 2013-2017, Portuguese bilateral ODA represents 47% of total ODA confirming on a strong geographical concentration in Portuguese-speaking African countries (PALOP) and in Timor-Leste, while multilateral ODA is at 53%, being mainly allocated to EU institutions, the World Bank Group (mostly in 2017) and the United Nations.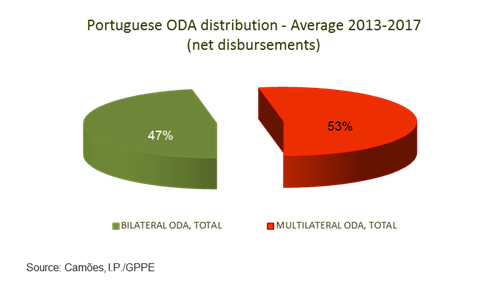 In 2017, ODA of all DAC/OECD member countries totaled USD 146.6 billion (preliminary data) at current prices, a slight decline of 0.16% in real terms from the previous year. Portugal ranked 23rd in the 29 donor countries.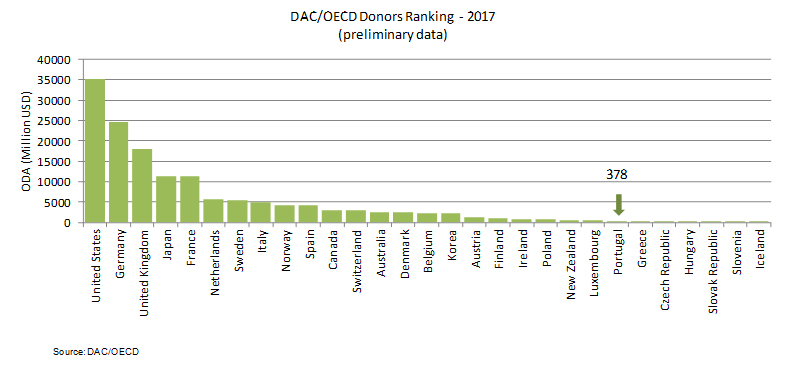 Bilateral ODA
Portuguese bilateral ODA reached 102M€ in 2017, representing 30% of Portugal's total ODA for that year, showing a variation of -10% compared with 2016, which was mainly due to Angola's debt repayment to Portugal, the start of the repayment period of concessional lines of credit/loans by Cabo Verde, as well as the decreasing use of concessional lines of credit/loans by the partner countries, such as S. Tome & Principe. In average terms, between 2013 and 2017, bilateral ODA accounted for 47% of total aid.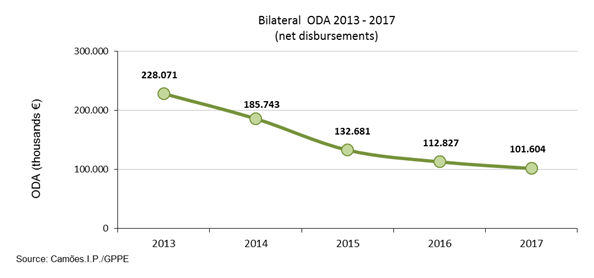 The distribution of bilateral ODA by type of finance illustrates the downward trend of concessional lines of credit/loans and the stabilization of grants component. In 2015, grants surpassed loans component and two new types of finance (interest subsidy and equity) arose for the first time, with not very significant values. The volume of concessional lines of credit/loans, very expressive especially in 2011 and 2012, has seen a decreasing trend and, consequently, a lower weight in bilateral ODA.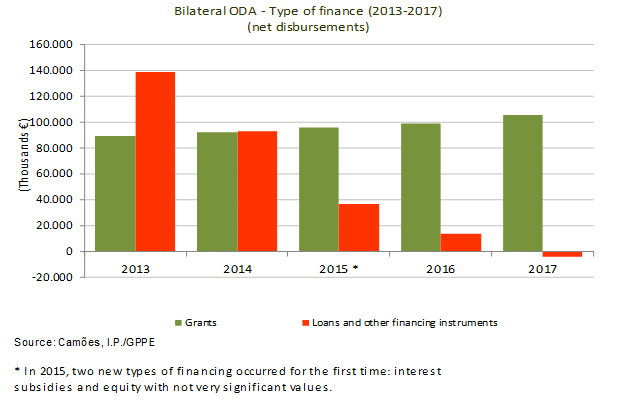 In 2016, the amount of concessionary credit/loans was 12% of bilateral ODA, which in absolute terms was the lowest figure since 2007. Aid in the form of grants rose 16% compared with 2015, representing 88% of bilateral ODA. In 2017, the grant component increased again, reaching 106M€. The loan component, on the other hand, reached negative values (-4M€) due to the repayment by Angola of the debt to Portugal (24,76M€).
Geographical Priorities
Portuguese ODA is mostly concentrated in PALOP countries and Timor-Leste. This trend was particularly evident in 2010 and 2011 when PALOP countries and Timor-Leste jointly received, respectively, 80% and 90% of bilateral ODA, falling to 76% in 2012 and rising again in 2014 (85%) to fall ones more in 2015 (69%). In 2016 and 2017 the Angola's debt repayment to Portugal, the start of the repayment period of concessional lines of credit/loans by Cabo Verde, as well as the decreasing use of concessional lines of credit/loans by the partner countries, explain the fall to 60% (2016) and 56% (2017).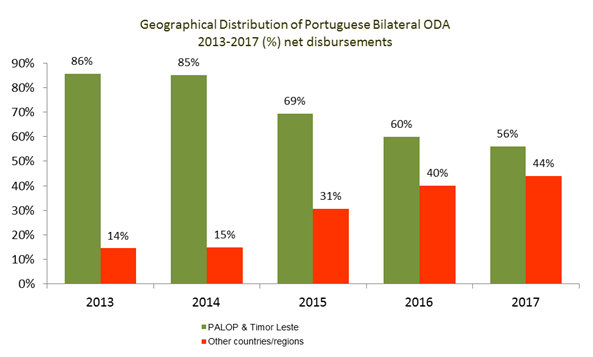 The analysis of the distribution of bilateral ODA gross disbursements (to avoid the distortion introduced by the amounts received) reveals that Cabo Verde and Mozambique were, just like in the previous four years, the main recipients of bilateral aid, having received in 2017, in gross ODA, 23,9 M€ and 40,5 M€, respectively. A significant part of these amounts refers to concessional lines of credit/loans for the construction of facilities and infrastructures and investments in the sectors of renewable energy, the environment and social housing, among other.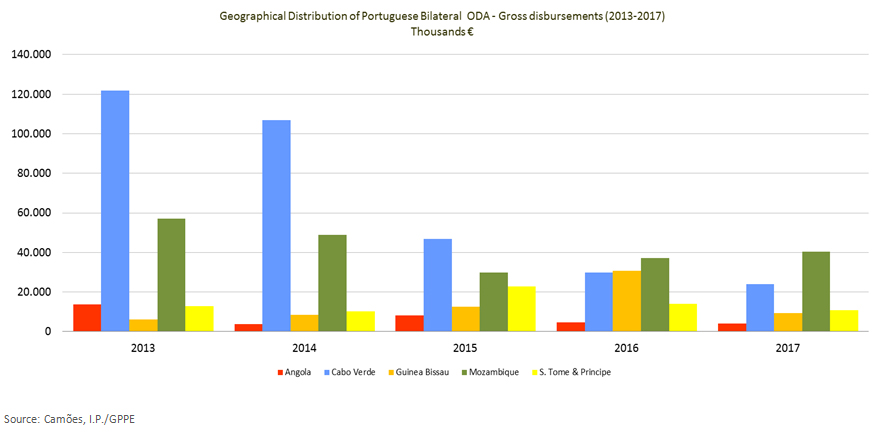 Sectoral Priorities
Regarding sectors, the priorities for Portuguese co-operation are based on the following criteria: (1) priorities defined by the national development strategies of partner countries and (2) the added value of Portuguese development co-operation based on Portuguese institution's' high level experience in the areas of education and training, the strengthening of the public sector administrative management and good governance.
The sector group Social Infrastructure & Services (education, health, population, reproductive health, water and sanitation, government and civil society, other infrastructures and social services) concentrated on average of 64% of bilateral ODA in the past five years.
Non Sector Allocable Aid, includes contributions to General Programme Assistance, Actions related to debt, Humanitarian aid and assistance to Refugees in donor countries. This group represented 23% of bilateral ODA over the last five years, due to the use of concessionary lines of credit/loans by countries such as Morocco, Cabo Verde, Mozambique, S. Tome & Principe and China, but also in result of the gradual increase in the support for refugees and emergency assistance.
The third representative group is Economic Infrastructure & Services (Transport, Communications, Banking and Financial Services), which accounted for 9% of bilateral ODA.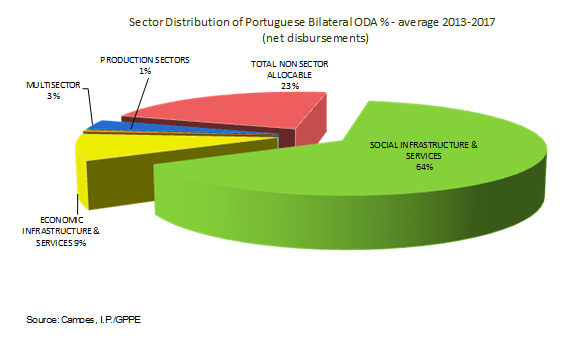 Multilateral ODA
On average, multilateral ODA represented 53% of total aid between 2013 and 2017. Between 2012 and 2014 there was a slight decrease in the volume of Multilateral ODA which was due to the reduction of ODA contributions to the EU institutions and to Regional Development Banks. This trend was reversed in 2015 and above all in 2016, when Portuguese aid to the EU institutions increased exponentially. In 2017 multilateral ODA accounted to 236 M€, a remarkable rise of 20% compared to 2016 (197 M€), explained by the positive variation in Portugal's contribution to the World Bank and Regional Development Banks.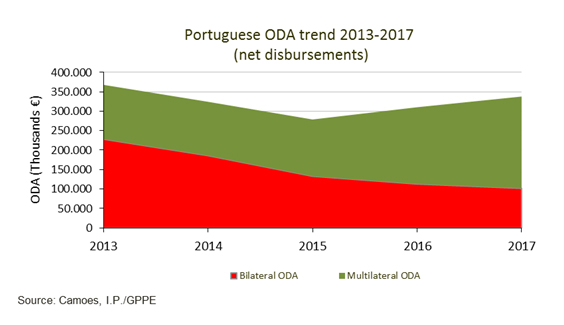 In the 2013-2017 period the majority of Portuguese multilateral aid (82%) is allocated through EU institutions, especially by the contributions to the European Development Fund (EDF) which finances EU aid for African, Caribbean and Pacific countries (ACP), as well as to the European Commission's budget for aid to developing countries not covered by the EDF. Contributions to the Regional Development Banks, World Bank and WTO accounted for 11% of aid. UN institutions received 6% of Portugal's multilateral ODA, on average.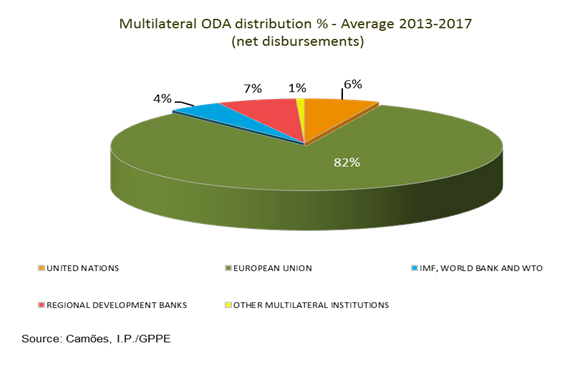 Main recipients of Portuguese ODA