Official Development Assistance (ODA) data
Qualitative and quantitative information relating to Portuguese official development assistance data for the period of 2011-2015
Bilateral ODA
Bilateral ODA
To any question about the available information, please contact:
This email address is being protected from spambots. You need JavaScript enabled to view it.
Information on the Portuguese bilateral co-operation projects (2011-2015)
Projects
OECD (DAC) lists
Main Characteristics of Portuguese Official Development Assistance (ODA)
ODA volume and evolution 2014-2018
After a rise in 2010 and 2011, Portuguese ODA started to decrease sharply in 2012. Despite exceeding €500m in 2011, Portuguese co-operation fell 11% in 2012, a further 18.6% in 2013 followed by an additional drop of 12% in 2014. The reason for this is the fact that Portugal was involved with a financial assistance programme until June 2014. Nevertheless, 2015 also witnessed a downturn with a decrease of 14% compared with 2014, representing a net value of €279m.
Compared with 2010, ODA growth for 2011 resulted from an increase in bilateral aid where the concessional lines of credit and loans to the partner countries of Portuguese co-operation accounted for a significant part of global ODA. To a great extent, this type of aid also influences the annual variation of bilateral ODA. The negative ODA trend since 2012 can be explained by the general financial reduction by the state (due to budgetary restraints) and the repayment of Angola's debt to Portugal, which began in 2009.
The amount of multilateral ODA in 2014 confirmed some stabilisation during the previous three years after a marked downturn until 2012, which is explained by the reduction of the contributions channelled through EU institutions, the World Bank Group and the Regional Development Banks.
The amount of Portuguese ODA in relation to Gross National Income (ODA/GNI ratio) stood at 0.16% in 2015, representing a decline compared with the previous four years. This decrease reflects the effects of the economic and financial adjustment programme which Portugal was subjected to, as well as fewer lines of concessional credit/loans being made available to partner countries.
In light of that, Portugal remains below the ODA/GNI target of 0.7% because the control measures of the public deficit and budgetary consolidation have conditioned its compliance. However, Portugal reaffirms its commitment to achieving a ODA/GNI of 0.7% depending on the economic and financial situation.
On average, Portuguese bilateral ODA represents 62% of total ODA based on a strong geographical concentration in Portuguese-speaking African countries (PALOP) and in East Timor, while multilateral ODA is relatively strong at 38%, being mostly allocated to EU institutions, the World Bank Group and the United Nations (UN).
In 2015, the ODA of all the OECD/DAC member countries totalled US$131.6 billion (preliminary data) at current rates, representing an increase of 6.9% in real terms compared with the previous year. Portugal remained in 23rd place in the ranking of the 28 donor countries.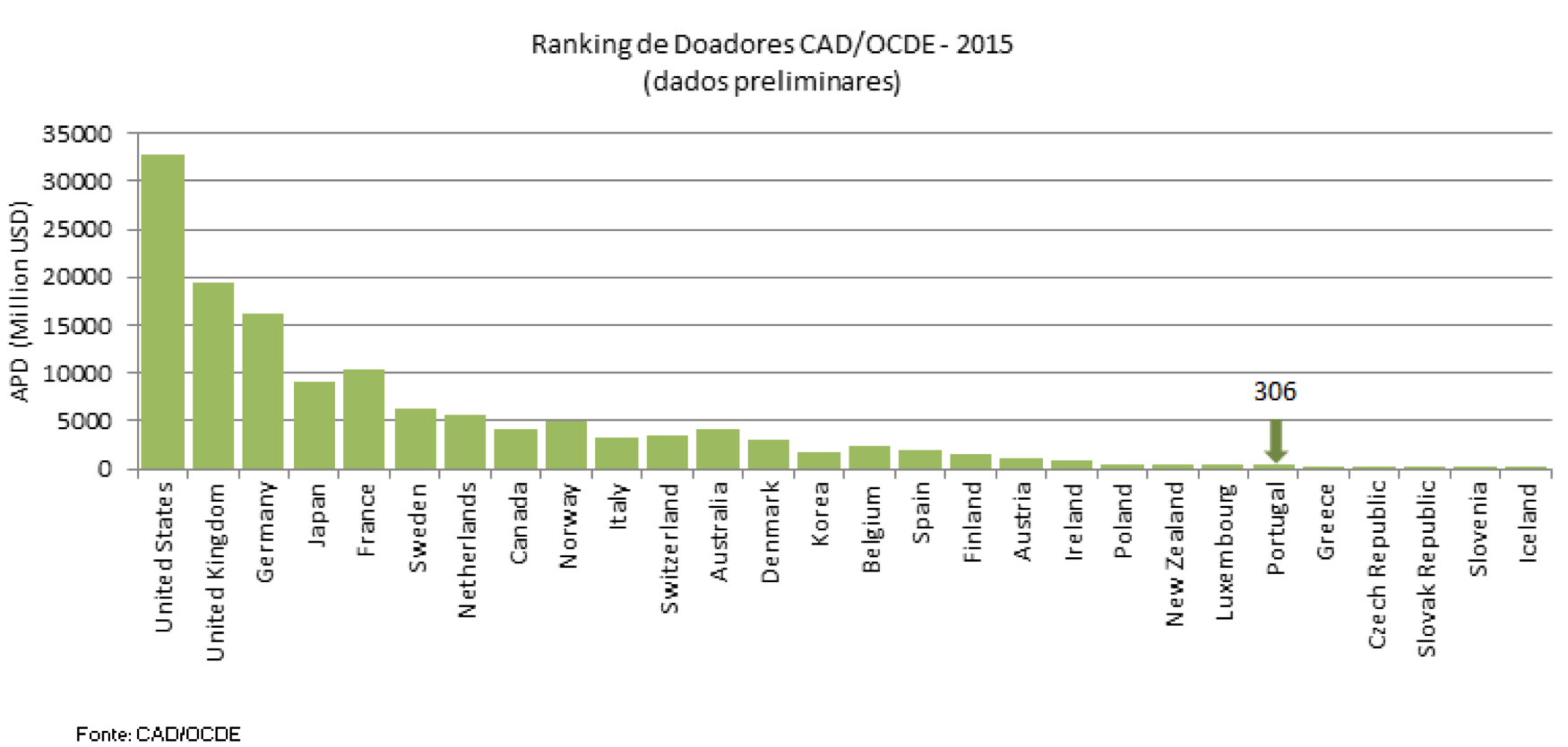 Bilateral ODA
Portuguese bilateral ODA reached €133m in 2015, representing 47% of Portugal's total ODA for that year, showing a variation of -29% compared with 2014, which was mainly due to Angola's debt repayment to Portugal and reduced lines of concessional credit/loans by the partner countries. On average, between 2011 and 2015, bilateral ODA reached 62% of total assistance.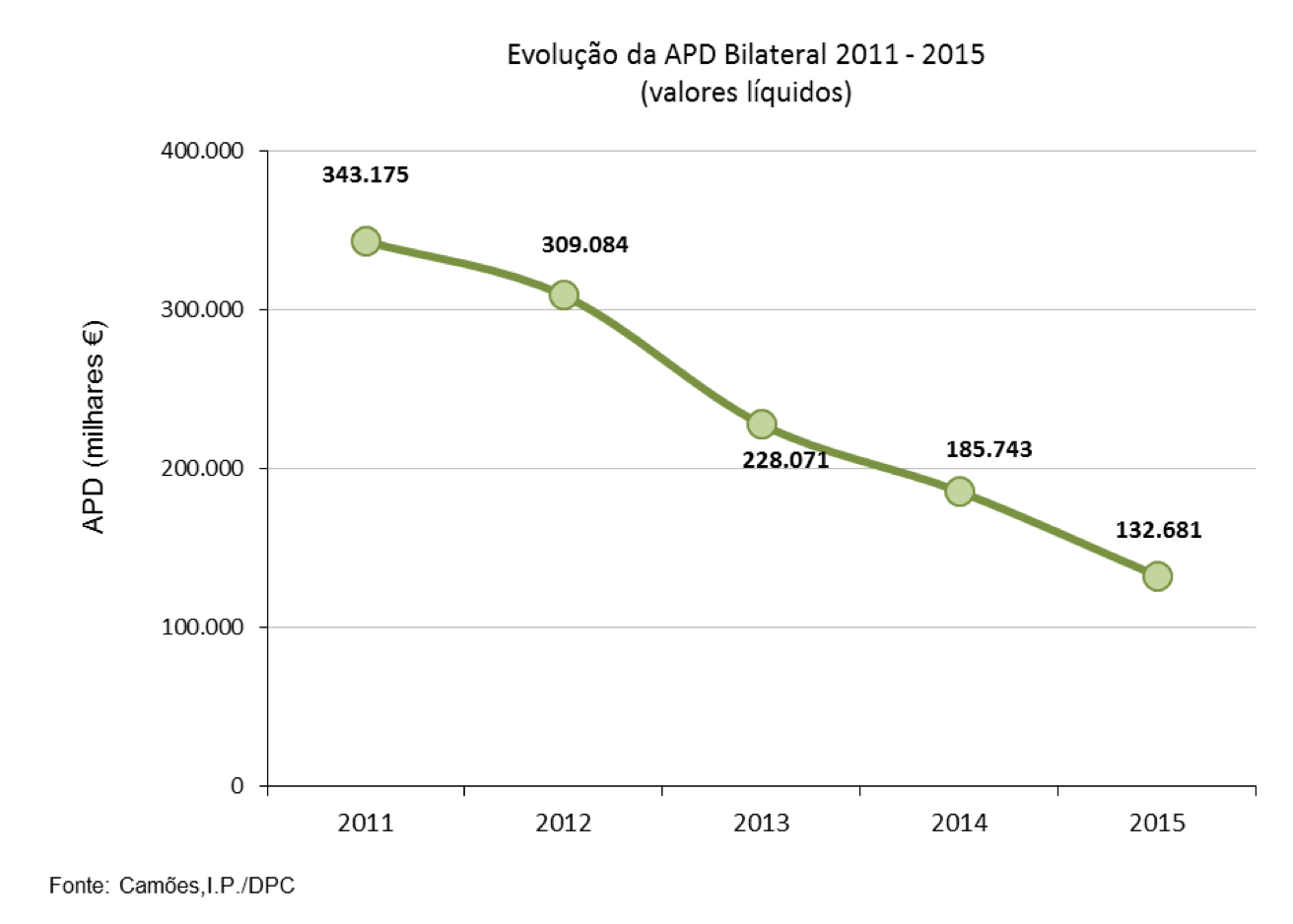 The distribution of bilateral ODA illustrates the downward trend in terms of the lines of concessionary credit/loans and continued decrease in donations. In 2015, there was a rise in two new types of financing for the first time: interest subsidies and equity with true values still to be confirmed. In the year 2015, donations reached €96m, exceeding the amount of loans. It's worth noting the lines of concessionary credit/loans, especially in 2011 and 2012, which began to record a downward trend and, consequently, a reduction in bilateral ODA.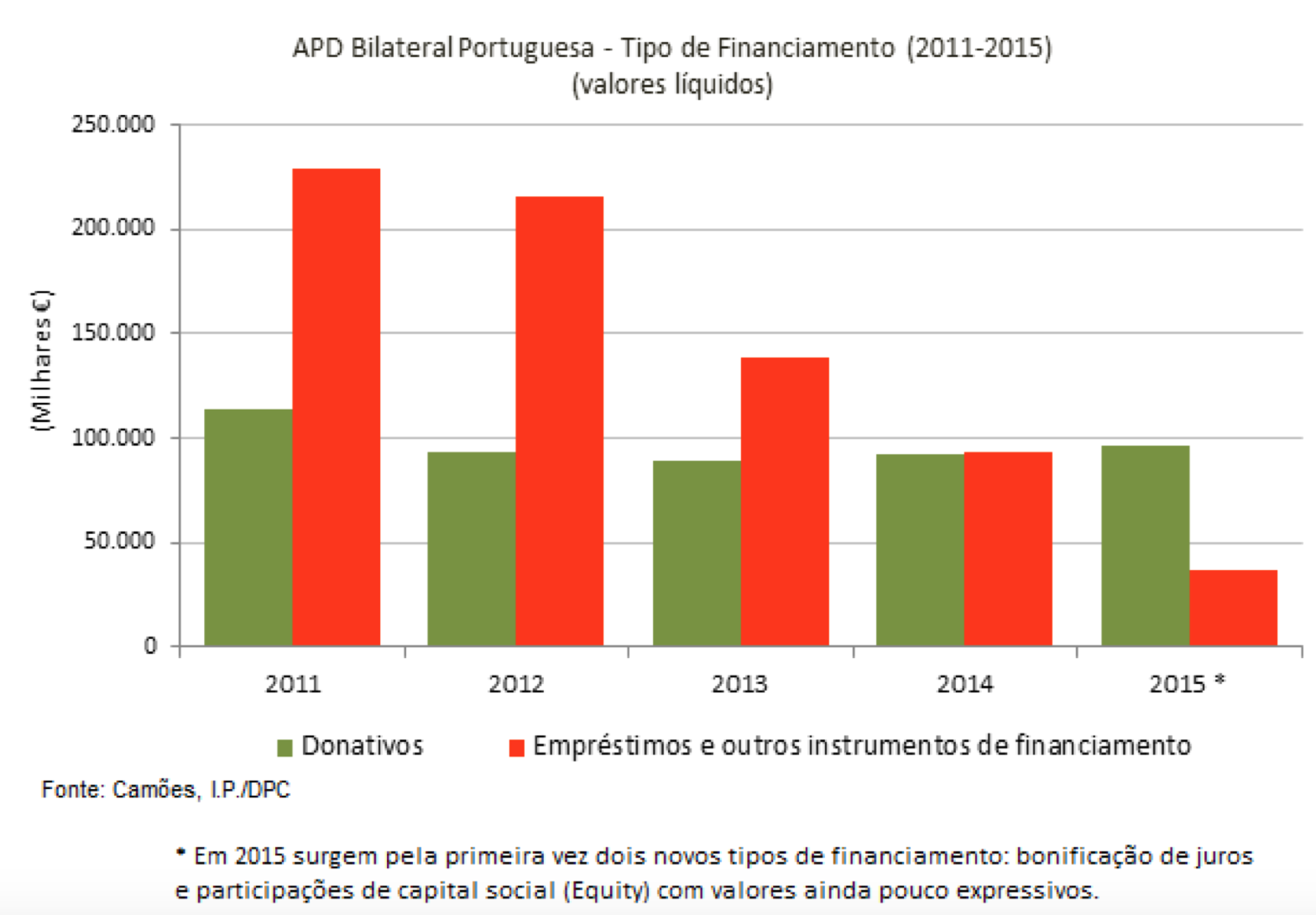 In 2015, the amount of concessionary credit/loans was 28% of bilateral ODA, which in absolute terms was the lowest figure since 2007, being much lower than the value of donations (72%). Donations rose 22% compared with 2014.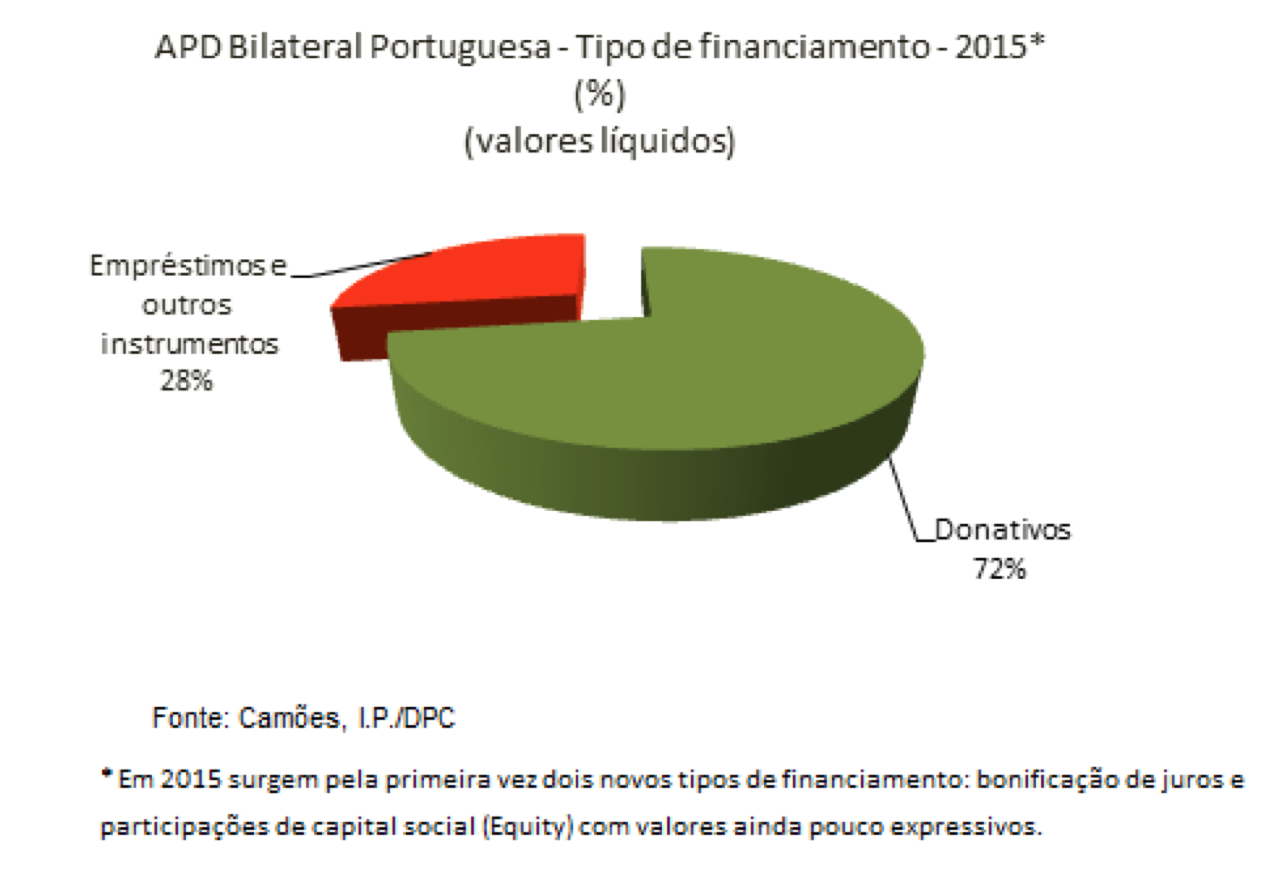 The allocation of bilateral ODA donations by aid channels (aid channels identify the entities responsible for the implementation of co-operative activities) indicates that the most widely-used channel continues to be governmental donors (50%). There's a marked rise in partners' governmental channels (33%) which translates to a greater use of partner countries' national systems.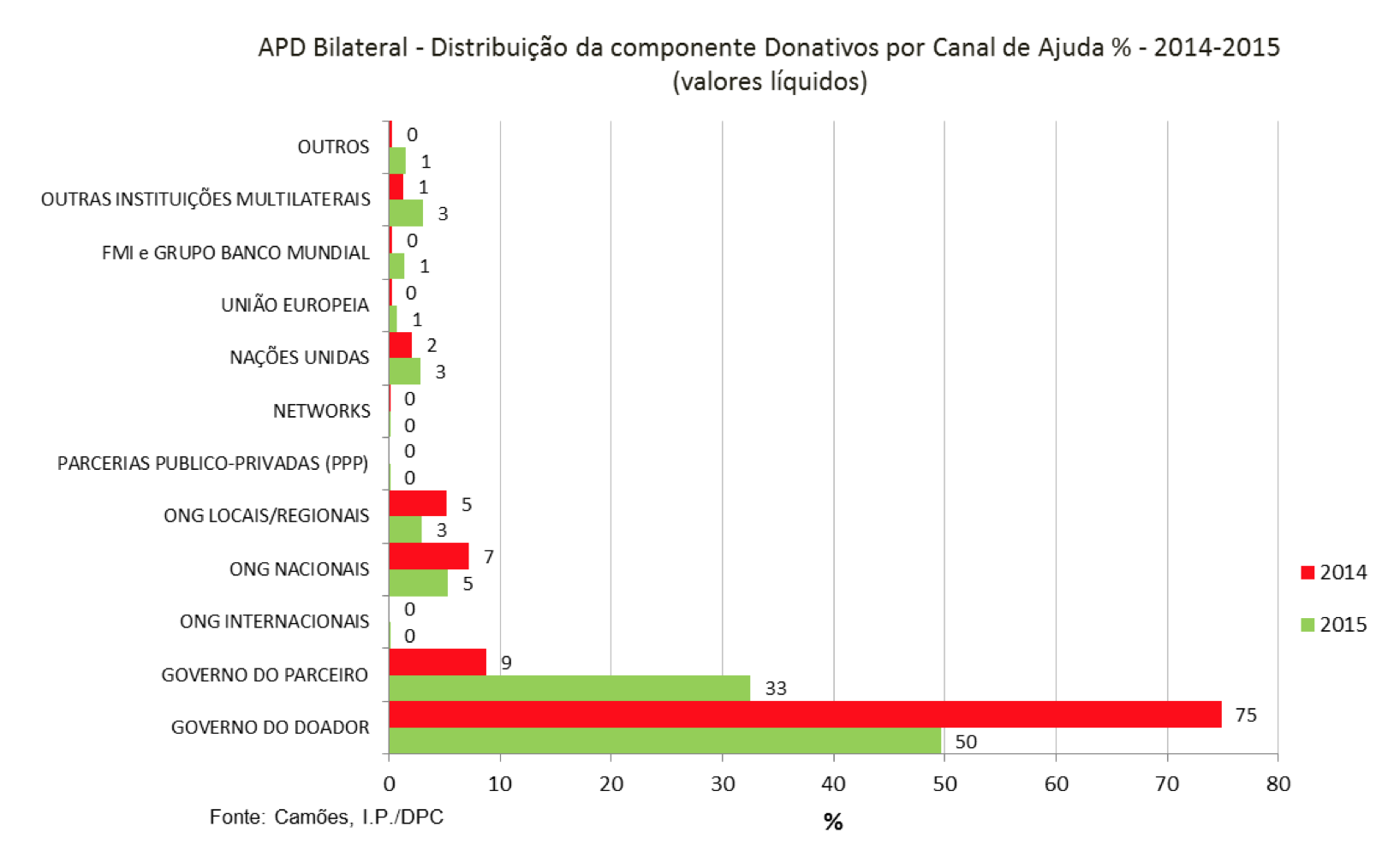 Geographical Priorities
Portuguese ODA is mostly concentrated in PALOP countries and East Timor. This trend was particularly evident in 2010 and 2011 when PALOP countries and East Timor jointly received 80% and 90%, respectively, of bilateral ODA, falling to 76% in 2012 and rising again in 2013 and 2014 to 86% and 85%, respectively. In 2015, there was a reduction in concessionary credit/loans by partner countries in final spending stages, which explained why the amount decreased to 69%.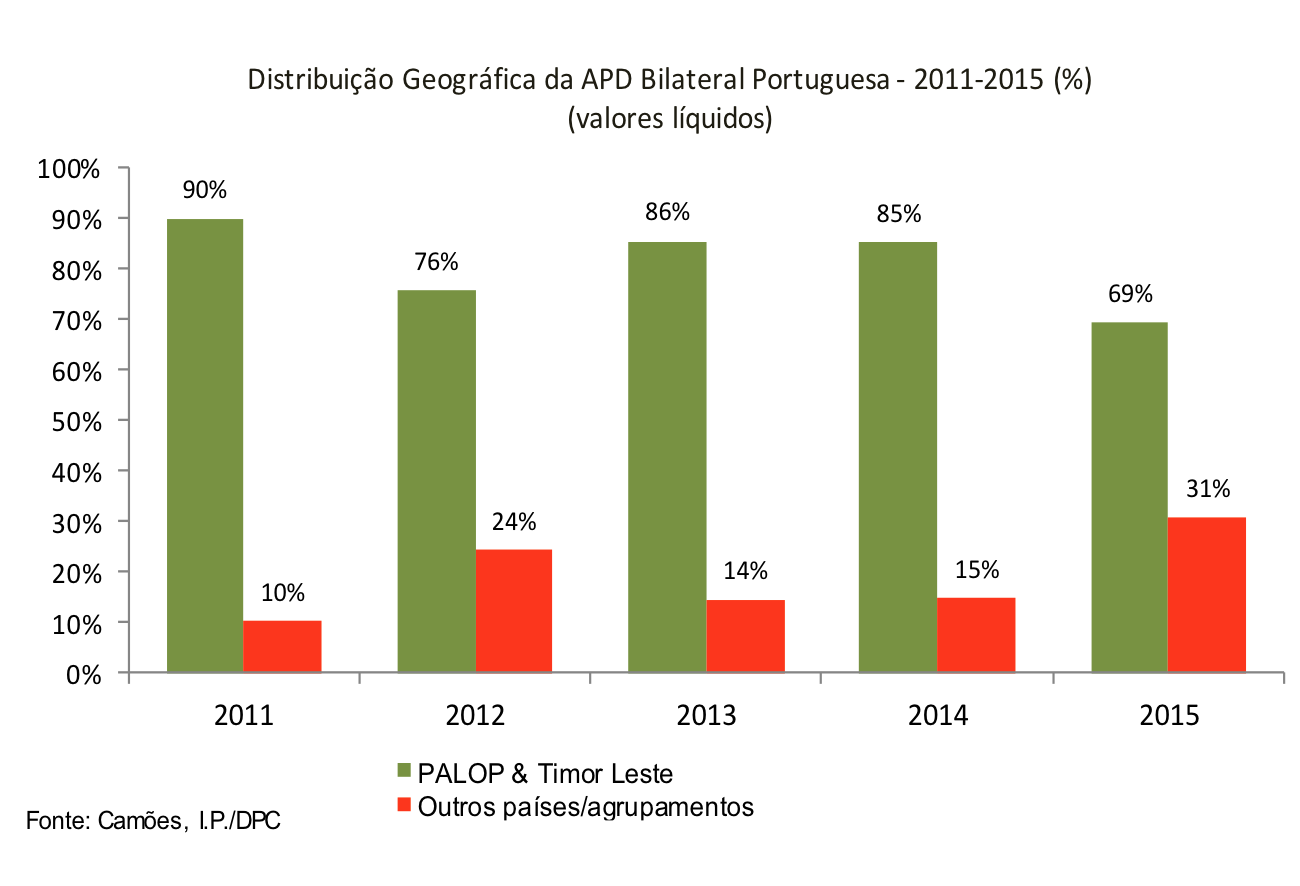 Analysis of the distribution of gross bilateral ODA (to avoid differences shown by the amounts received) reveals that Cape Verde and Mozambique were, just like in the previous four years, the primary recipients of bilateral aid having received in gross terms €46.9m and €29.8m, respectively, in 2015. A significant part of these amounts refers to channels of concessionary credit/loans for the construction of facilities, infrastructure and investments in the sectors of renewable energy, the environment and social housing, among other things. São Tomé and Principe registered a considerable increase of ODA in 2015 (€22.9m) in relation to 2014 (€10.1m), mainly due to concessional lending in the area of electrical infrastructures for projects in the areas of construction, rebuilding and restoration of the electricity network in order to increase and improve energy efficiency.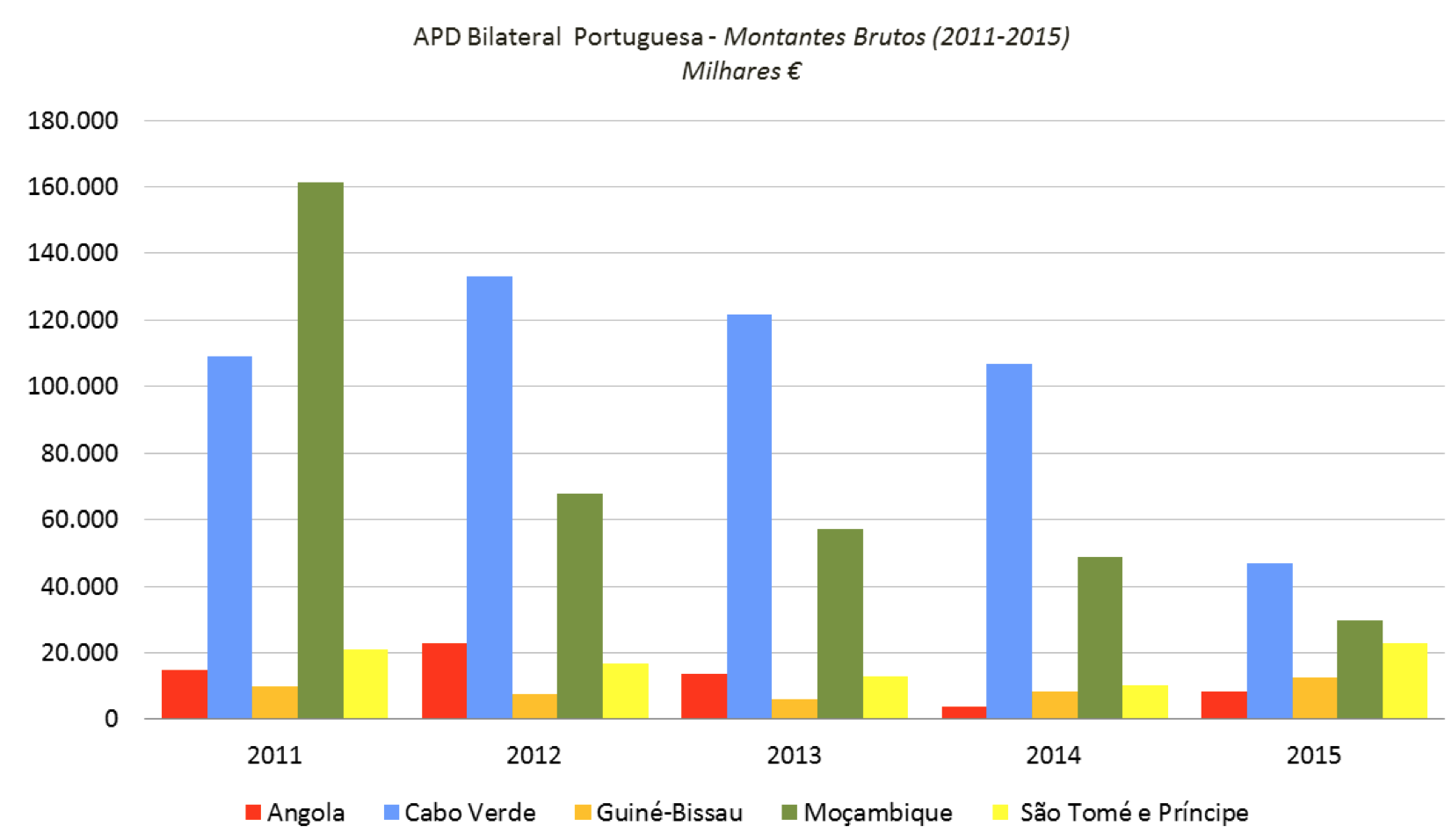 Sectoral Priorities
Regarding sectors, the priorities for Portuguese co-operation are based on the following criteria: (1) priorities defined by the national development strategies of partner countries and (2) the added benefits of Portuguese co-operation relating to Portugal, its language and common history, particularly in the areas of education and training, the strengthening of the state's administrative capacity and the introduction of good governance.
Grouping together the infrastructure and social services sectors (incorporating education, health, population, reproductive health, water and sanitation, government and civil society, other infrastructures and social services) has involved an average of 42% of bilateral ODA in the past five years.
Non-sectorial allocations included aid programmes and actions related to debt, humanitarian aid and help for refugees. This group represented 43% of bilateral ODA over the last five years, due to the use of concessionary credit/loans by countries such as Morocco, Cape Verde, Mozambique and São Tomé and Principe.
The third group consists of infrastructure and economic services (transport, communications, banking and financial services), which accounted for 12% of bilateral ODA.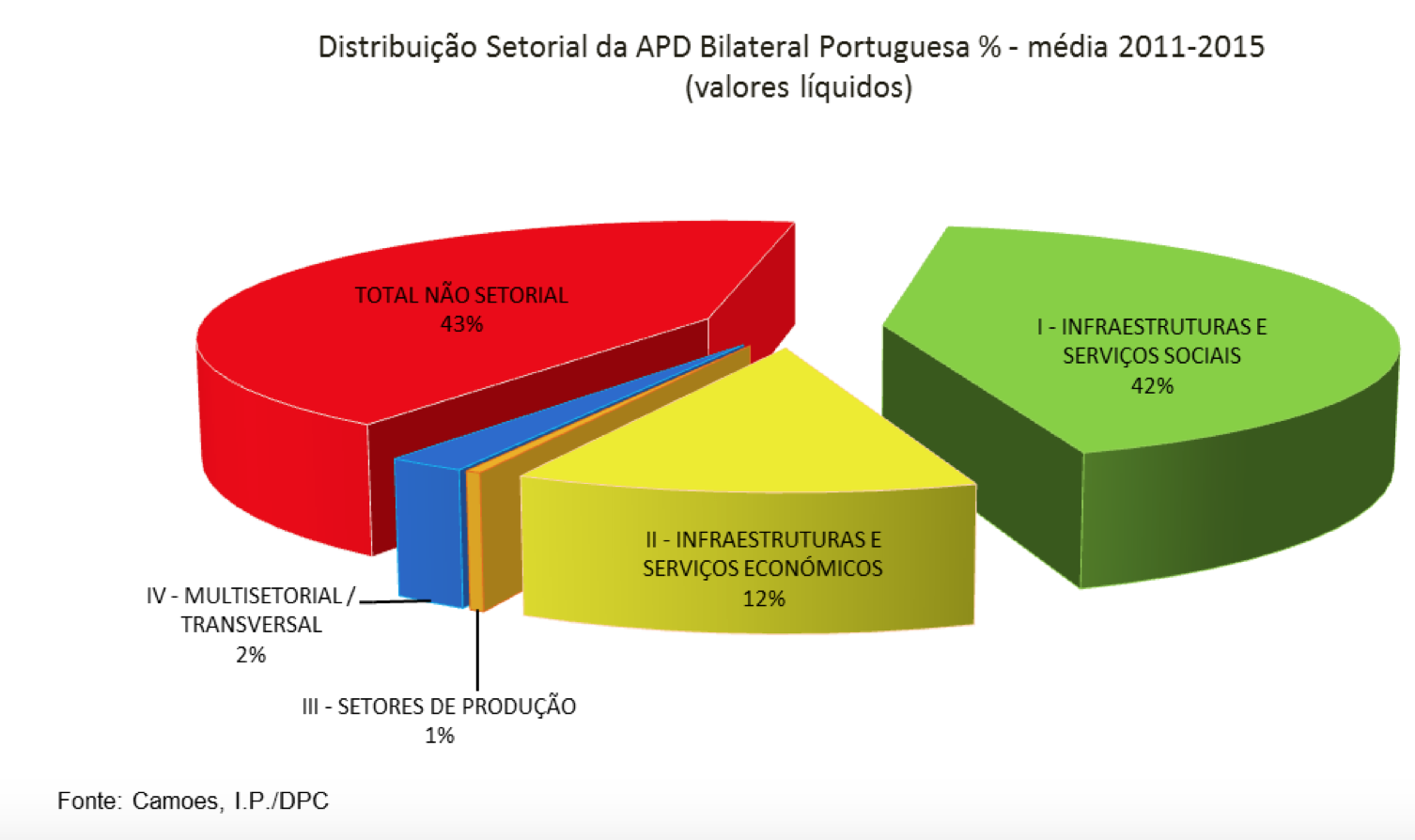 Multiateral ODA
On average, multilateral ODA represented 38% of total aid to the value of €146m in 2015. The majority of Portuguese multilateral aid (89.4%) is allocated through EU institutions, especially by means of contributions to the European Development Fund (EDF) which finances EU aid for African, Caribbean and Pacific countries (ACP), as well as to the European Commission budget which helps developing countries not covered by the EDF. Contributions to the Regional Development Banks, World Bank and WTO accounted for 8% of aid. UN institutions received 6% of Portugal's multilateral ODA, on average.
Main recipients of Portuguese ODA