Sao Tome and Principe
Network
| | |
| --- | --- |
| Resources | Location |
| Portuguese Cultural Centres | |
| Portuguese Co-operation Centres | |
| Teaching Portuguese Abroad - Co-ordination | - |
| Associated Schools and Centres | - |
| Language Centres | |
| Academic Chairs | - |
| Lectureships | |
| | |
Portuguese Cultural Centres
Santo António - Centro Cultural Português em São Tomé, Polo no Príncipe
Nome

Camões – Centro Cultural Português, Polo no Príncipe

Abertura

1994

Responsável

(vago)

Morada

Camões – Centro Cultural Português
Caixa Postal 10
Cidade de Santo António
Ilha do Príncipe

Contactos

Email:

 

This email address is being protected from spambots. You need JavaScript enabled to view it.

 

Cidade de Santo António - Ilha do Príncipe

 
 
O Centro Cultural Português em São Tomé - Polo na Ilha do Príncipe
O Polo do Príncipe foi inaugurado em 1994 e está situado no centro da cidade de Santo António.
Possui uma biblioteca com cerca de 5.000 exemplares, com os mais diversos temas.
Tem leitura domiciliária e perspetiva inaugurar extensões de leitura infantil nas comunidades rurais, afastadas do centro da cidade. Criou mini-bibliotecas de livros didáticos para apoio aos estudantes residentes nas Roças.
Dispõe de leitura de periódicos e revistas - imprensa nacional, regional e desportiva. Distribui pelas comunidades afastadas da cidade jornais e revistas para criação de hábitos de leitura e melhoria qualitativa da Língua Portuguesa.
A sua atividade está especialmente direcionada para a massa estudantil, facultando livros didáticos para consulta e disponibilizando a sua sala para trabalhos escolares e estudo.
Inclui na sua agenda a projeção regular de filmes infantis, filmes portugueses, documentários sobre a história de Portugal e outros de caráter informativo e lúdico.
Na sua programação anual pretende sempre dar a conhecer um artista plástico são-tomense ou aspetos da vida literária e plástica de São Tomé e Príncipe.
São Tomé - Centro Cultural Português
Nome

Camões – Centro Cultural Português em São Tomé

Abertura

1994

Diretora

Paula Pereira

Morada

Camões – Centro Cultural Português

Rua Patrice Lumumba
Caixa Postal 454
São Tomé


Contactos

Email:

 

This email address is being protected from spambots. You need JavaScript enabled to view it.

Facebook

https://www.facebook.com/CENTROCULTURALPORTUGUES.STP/
 

Centro Cultural Português

 
 
O Centro Cultural Português em S. Tomé
O Centro Cultural Português em S. Tomé foi inaugurado a 11 de março de 1994.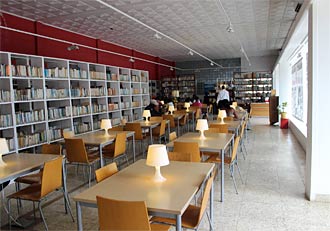 Desde essa data, o Centro Cultural passou a ser um local de referência cultural em virtude dos vários acontecimentos que foi promovendo. Pela sua sala polivalente passaram inúmeros agentes culturais, na sua maioria santomenses e portugueses, tendo-se assistido a Exposições e Espectáculos que marcaram a vida cultural do país.
Importa também destacar o apoio à edição promovido pelo Camões, I.P. em associação com o Centro Cultural.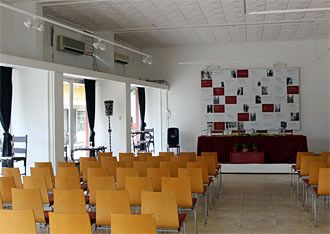 As ligações históricas que unem São Tomé e Príncipe a Portugal facilitam e promovem o desejo de manutenção e aprofundamento desses laços, tendo o Centro Cultural vindo a contribuir para alcançar esse objectivo através da vertente cultural e linguística.
Portuguese Co-operation Centres
São Tomé
Nome

Cooperação Portugal – São Tomé e Príncipe

Cidade

São Tomé

Responsável

Paula Pereira

Morada

Av. Marginal 12 de Julho
C. P. 173 - S. Tomé

Contactos

Tel: +(239) 222 49 74

 

Embaixada de Portugal em São Tomé

 
 
Teaching Portuguese Abroad - Co-ordination
There are no Teaching Portuguese Abroad - Co-ordination available in this country.
Associated Schools and Centres
There are no Associated Schools and Centres available in this country.
Portuguese Language Centres
São Tomé
Nome

Camões – Centro de Língua Portuguesa em São Tomé e Príncipe

Universidade

Universidade de São Tomé e Príncipe

Abertura

1999

Responsável

Guilherme Figueiredo

Morada

Camões – Centro de Língua Portuguesa
Faculdade de Ciências e das Tecnologias
Universidade de São Tomé e Príncipe
Bairro Quinta de Santo António
CP 546 - São Tomé

Contactos

Tel: (00239) 222 4244
Email:

This email address is being protected from spambots. You need JavaScript enabled to view it.

 


 

Universidade de São Tomé e Príncipe

 
 
O Centro de Língua Portuguesa em São Tomé
O Camões – Centro de Língua Portuguesa na Universidade de São Tomé e Príncipe (USTP) foi inaugurado no dia 12 de abril de 1999.
O principal objetivo do Centro é o de participar ativamente nas tarefas e projetos inerentes ao ensino da Língua e Cultura Portuguesas, bem como na formação de professores de Língua Portuguesa, o que se concilia com os objetivos da USTP de formação de quadros superiores no domínio da educação.
Em termos de atuação, o CLP é um espaço que visa:
apoiar os alunos da USTP, ou de outras instituições, que desenvolvam trabalhos relacionados com as áreas acima referidas;

orientar os docentes na pesquisa de informação e preparação de materiais e atividades letivas, especialmente incidentes sobre o ensino e a aprendizagem da Língua Portuguesa;

apoiar, participar e/ou organizar ações de formação científico-pedagógicas de professores, tendo em conta necessidades que se verifiquem nesta área e de acordo com a especificidade dos objetivos do Centro;

desenvolver ações de reflexão e de estudo sobre a Língua Portuguesa no contexto de São Tomé e Príncipe;

promover um ambiente de leitura que permita não só o acesso, mas igualmente uma familiarização profunda com a Língua através da sua expressão escrita.
Para a concretização destes objetivos, o Centro dispõe de equipamento informático e audiovisual diversificado, bem como de um acervo bibliográfico de mais de 2.000 títulos, selecionado, sobretudo, nas áreas da Linguística e da Literatura em Língua Portuguesa, para além das respetivas didáticas.
Academic Chairs
There are no Academic Chairs available in this country.
Lectureships
São Tomé - Universidade de São Tomé e Príncipe
Nome

Leitorado de Português na Universidade de São Tomé e Príncipe

Cidade

São Tomé

Universidade

Universidade de São Tomé e Príncipe

Leitor

Guilherme Figueiredo

Morada

Universidade de São Tomé e Príncipe
Departamento de Língua Portuguesa
Bairro Quinta de Santo António
CP 546 - São Tomé

Contactos

Tel: +239 996 4225 /+239 222 4244 (Centro de Língua Portuguesa)

Email:

This email address is being protected from spambots. You need JavaScript enabled to view it.

 
 

Universidade de São Tomé e Príncipe