Exposição " Distant Rooms", de Rui Chafes e Pedro Costa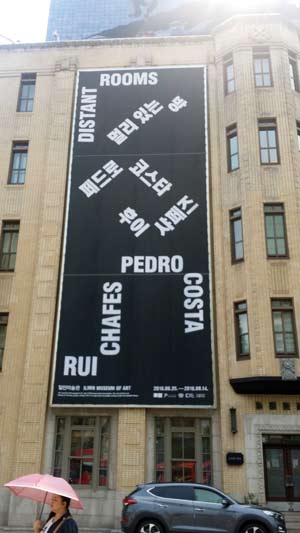 Description
O artista plástico Rui Chafes e o realizador de cinema Pedro Costa apresentam entre 25 de junho e 14 de agosto de 2016, no Ilmin Museum of Art de Seul, na Coreia do Sul, a sua quarta exposição conjunta, em que associam as esculturas do primeiro às imagens do segundo. O Camões – Instituto da Cooperação e da Língua e a Embaixada de Portugal em Seul apoiam esta iniciativa.
A exposição conjunta de Rui Chafes e Pedro Costa, a decorrer no Ilmin Museum of Art, em Seul, Coreia do Sul, constituirá um momento especial e único para o público sul-coreano conhecer a obra deste dois artistas numa perspetiva de complementaridade e de jogos entre corpos (de escultura) e de luz (imagens de cinema).
O seu título " Distant Rooms" invoca o eco de uma voz a percorrer um salão, bem como a convocação de memórias distantes, perdidas algures no tempo. Esta metáfora será perseguida através da projeção de sombras das esculturas no espaço da exposição, recorrendo a imagens e luz, numa tentativa de revelar imagens mentais – energia invisível, som e sombra – emergindo dos trabalhos dos dois artistas.
Esta exposição é também uma oportunidade de mostrar ao público formas de arte contemporânea através de uma relação harmoniosa envolvendo obras de escultura e imagens de filmes realistas, que são a marca dos dois artistas. A memória e o tempo são dois conceitos importantes nas obras de Rui Chafes e Pedro Costa. A exposição "Distant Rooms" procura maximizar as relações entre aqueles dois conceitos através da interação entre as suas obras no mesmo espaço. A projeção de material vídeo de Pedro Costa sobre esculturas de Rui Chafes procura esta harmonia e a busca da materialização mental da energia que emana dos seus trabalhos no espaço e no tempo.
As obras expostas falam, «uma vez mais, da distância do tempo e das vozes que nos chegam do passado distante», diz Rui Chafes, Prémio Pessoa de 2015. «As esculturas e as imagens evocam os olhares perdidos e a memória de todos os pequenos ruídos e movimentos» – «ecos das vozes do silêncio e da aragem do tempo, trazendo até nós os vultos de uma deambulação impossível», acrescenta.
Ao longo do período da exposição conjunta decorrerão diversos eventos, destacando-se, no espaço do Ilmin Museum of art, uma palestra dos artistas e uma sessão especial com críticos de arte. O Korean Film Archive realizará uma retrospetiva sobre o cinema de Pedro Costa, designada "The Eloquence of Shadow", que incluirá a exibição de 18 filmes do realizador, entre os quais 'O Sangue' (1989) e 'Cavalo Dinheiro' (2014). Durante a retrospetiva, Pedro Costa apresentará uma masterclass ao público cinéfilo coreano.
Será também lançado em Seul e em Tóquio, alguns dias depois, o livro Família Aeminium, editado pela Pierre von Kleist, referente à exposição que os dois criadores portugueses fizeram no Criptopórtico de Coimbra. «Será uma edição muito bela e cuidada da autoria de André Príncipe e José Pedro Cortes e com fotografias de André Cepeda», garante Rui Chafes.