Telavive: Apresentação e exibição do filme "O Cônsul de Bordéus"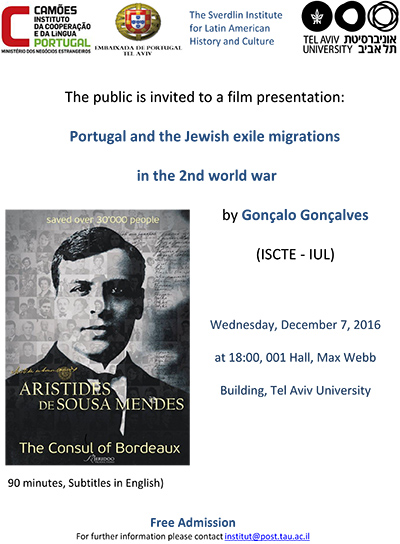 Description
No dia 7 de dezembro de 2016 às 18h00, será exibido o filme O Cônsul de Bordéus, na Universidade de Telavive. O filme será precedido de uma breve introdução intitulada "Portugal and the Jewish exile migrations in the 2nd world war", por Gonçalo Gonçalves (ISCTE - IUL).
O docente convidado ao abrigo do protocolo de cooperação com a Universidade de Telavive irá falar sobre a ação dos meios diplomáticos portugueses no controlo e vigilância de fronteiras e circulações internacionais neste conturbado período da história da Europa. Esta introdução ajudará o público a entender a ação de Aristides de Sousa Mendes no contexto da Segunda Guerra Mundial, retratada no filme, e como se chegou até àquele momento da história da diplomacia portuguesa.
Esta iniciativa conta com o apoio do Camões, I.P. e da Embaixada de Portugal em Telavive.