Luanda: Projeção de "Before The Flood – Antes Do Dilúvio", de Leonardo DiCaprio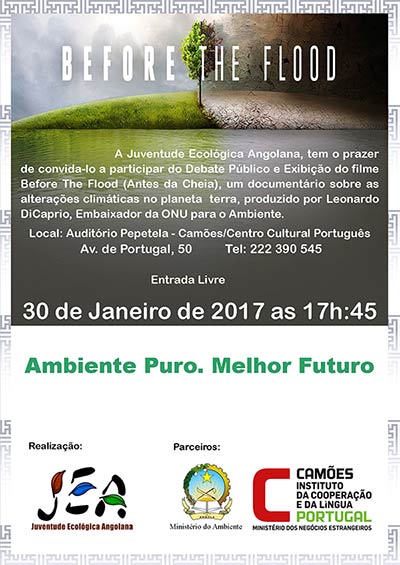 Description
Numa parceria entre o Camões – Centro Cultural Português em Luanda e a Juventude Ecológica de Angola, será exibido, no Centro Cultural Português, no Dia Nacional do Ambiente, 30 de janeiro de 2017, à 17h45, o documentário "BeforeThe Flood – Antes Do Dilúvio" com o ator e Embaixador da ONU para o Ambiente, Leonardo DiCaprio.
Com realização de Fisher Stevens, conhecido criador de The Cover, o documentário sobre o massacre dos golfinhos, que ganhou o Oscar em 2009, Before The Flood, mostra e explica através da narração de DiCaprio – e das várias entrevistas que o próprio efetuou – os efeitos nefastos das alterações climáticas em todo o mundo.
Para além de mostrar as regiões do globo mais afetadas, a produção procura educar as pessoas relativamente à urgência de atuar perante este problema e inspirar cada um dos espectadores para, com pequenos gestos, fazer parte da solução e contribuir para a reversão da situação num futuro que se espera próximo.