Belmonte: The 27th Lusophony Symposium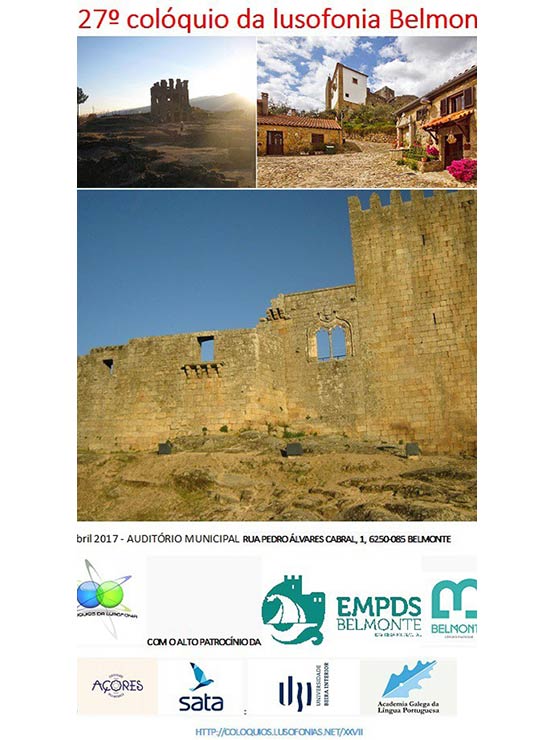 Date

06-04-2017

-

09-04-2017
Location
Description
From the 6th to the 9th of April 2017, Belmonte will host the International Association of Lusophony Symposiums (AICL)as well as the 27th Lusophony Symposium for the very first time in the town's history.
Guests of honour are 1996 Nobel Peace Prize winner Dom Ximenes Belo, author of the book An Azorean Missionary in Timor, scientist José Antonio Salcedo, writer Miguel Real and Urbano Bettencourt, a writer honoured in 2017.
The largest-ever gathering of Azorean writers is heading for Belmonte to discuss literature (Urban Bettencourt, honorary writer, Eduíno de Jesus, leading Azorean writer, Norberto Ávila, Álamo Oliveira, Brites Araújo, Maria João Ruivo, Carolina Cordeiro and Pedro Paulo Câmara), a subject that has been promoted at the Lusophony Symposium since 2006, including a series of initiatives such as the Cadernos de Estudos Açoreanos, the publication of anthologies for the school curriculum and the translation of Azorean works into seven different languages.
More than fifty participants will be taking part in discussions covering the three main themes: Portuguese literature and Lusophony, Azorean works and the art of translating. The event comprises several special sessions involving the Academies of Letters, the Galician Academy of the Portuguese Language (AGLP) and the University of Beira Interior (UBI) during which various invited guests will trigger a large amount of interaction between academics, writers, teachers and students.
In addition to the scientific sessions, there will be four book presentations on subjects like East Timor, the Jews and an Azores publication, plus a poetry session with a five piece ensemble, three musical recitals of the Cancioneiro Açoriano and other Azorean poets adapted to music by conductor Ana Paula Andrade, as well as a piano recital accompanied by cellist Henrique Constância of the Lisbon Metropolitan Orchestra and a performances by the Belmonte Senior Academy and Belmonte Music School.
The twelve different regions and countries represented are Germany, the Azores, Australia, Belgium, Brazil, Canada, East-Timor, Galicia, India, Luxembourg, Malacca and Portugal, including ten representatives of the Portuguese language academies and eleven universities and polytechnics.
For more information, visit:http://coloquios.lusofonias.net/XXVII/