Boston: The 6th Conference on Literature in Portuguese Language at the University of Massachusetts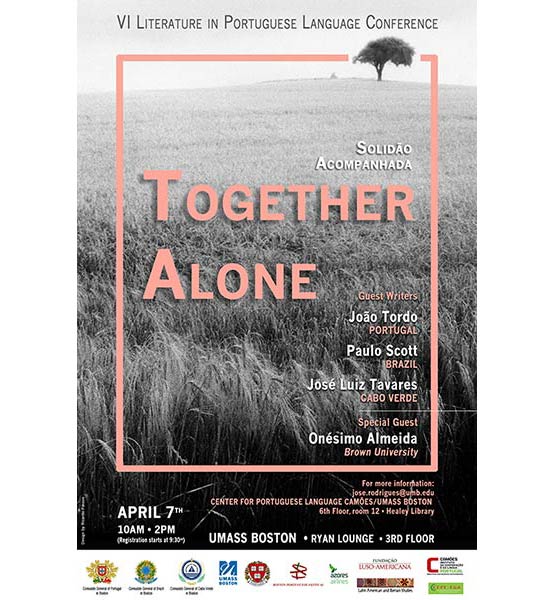 Description
The University of Massachusetts in Boston (UMass Boston) is the host venue for the 6th Literature in Portuguese Language Conference, which takes place on the 7th of April in the Ryan Lounge at McCormack Hall, starting at 9.30am. The event is part of the 12th Boston Portuguese Festival (2017).
Entitled A Solidão Acompanhada na Literatura Lusófona (Together Alone in Portuguese Literature), the conference is the result of a partnership between the consulates of Portugal, Brazil and Cape Verde (all located in Boston), the Camões Portuguese Language Centre, UMass Boston Latin American and Iberian Studies Department and the Harvard University Department of Romance Languages and Literature, in conjunction with the Portuguese Teaching Department in the USA (CEPE-USA).
The guest writers at the 6th Literature in Portuguese Language Conference are João Tordo (Portugal), Paulo Scott (Brazil) and José Luiz Tavares (Cape Verde), moderated by the professor and writer Onésimo T. Almeida from Brown University.
The main objective of this conference is to bring together the different cultures, voices and identities that share the Portuguese language. Each year a common theme is introduced by the partner countries (Portugal, Brazil and Cape Verde), so that each writer can talk about their most personal and intimate experiences. They also make a presentation based on their work and practical experiences, followed by an exchange of ideas between the public and the panel.
The event also focuses on the work these authors produce in their three parts of the Portuguese-speaking world, as well as elaborating on what and how they think and the way that they're giving voice to their words on the theme of being Together Alone in Portuguese Literature.
The debate re-examines the complex ways and methods of reflecting on being Together Alone through the closeness and points of contact expressed between these three Portuguese language writers, as well as through other means.
Besides being a place for reflection, discussion and cultural exchange, it provides an opportunity to project Portuguese literature to a wider audience with an interest on the subject.
During the conference there will be a tribute to the Cape Verdean writer, Teobaldo Virginio de Melo.
The event's co-ordinator is José da Cunha Rodrigues, Lector and Head of the Portuguese Language Centre Camões/UMass Boston.
Anyone interested in attending the conference must send their details to José da Cunha Rodrigues by email to: This email address is being protected from spambots. You need JavaScript enabled to view it., including the following information:
Name:
Association/Organisation:
E-mail:
For more information, please visit: http://www.bostonportuguesefestival.org