Lisboa: Fixando Breve o Momento – Chronicles of Lisbon: Ibero-American Capital of Culture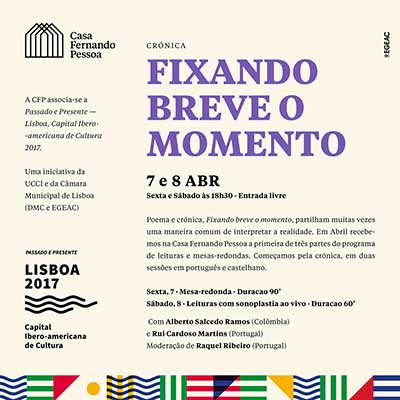 Date

07-04-2017

-

08-04-2017
Location
Description
On the 7th and 8th of April 2017, Casa Fernando Pessoa will host the first Fixando Breve o Momento session, which is part of the Lisbon 2017 Ibero-American Capital of Culture programme running throughout the year involving various Ibero-American poets and columnists.
This first event involves the writers Alberto Salcedo Ramos (Colombia) and Rui Cardoso Martins in two of the sessions.
At 6.30pm on the 7th of April, a round-table with both writers will be moderated by the journalist Rachel Ribeiro, and on the 8th of April (also starting at 6.30pm) there will be a reading of their chronicles in English and Spanish by the authors and their guests, with live sound-effects.
For more information:https://www.facebook.com/events/879714895502172/
Other events included in the programme are meetings with the poets on the 30th of June and the 1st of July and meetings with writers on the 13th and 14th of October.