Luxemburgo: Exposição de fotografia CIELO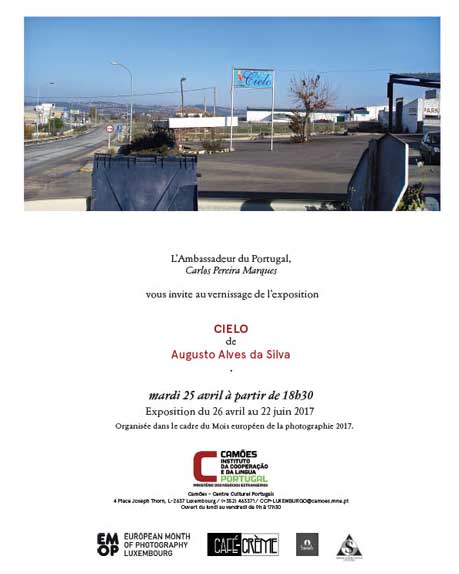 Date

25-04-2017

-

25-06-2017
Description
No âmbito do Mês Europeu da Fotografia 2017 no Luxemburgo, o Camões – Centro Cultural Português no Luxemburgo acolherá, de 25 de abril a 22 de junho de 2017, a exposição de fotografia Cielo, de Augusto Alves da Silva. A inauguração terá lugar a 25 de abril, às 18h30.
As 91 fotografias que constituem a exposição Cielo foram escolhidas a partir de uma série muito mais vasta, que o fotógrafo realizou, conduzindo a uma velocidade média de 40 km/h. Estas fotografias são o relato de uma travessia de Espanha por estradas de terra.
O fotógrafo Augusto Alves da Silva, que estará no Luxemburgo de 19 a 26 de abril, nasceu em Lisboa em 1963, e vive e trabalha em Tremez, Santarém.
Estudou Engenharia Civil no Instituto Superior Técnico de Lisboa, 1981-1984.
Estudou Fotografia na London College of Printing (1989) e "Media Studies" na Slade School of Fine Art de Londres em 1997, com duas bolsas da Fundação Calouste Gulbenkian.
Augusto Alves da Silva foi nomeado para o Prémio União Latina (1996 e 1998), para o prémio BES Photo 2006 e para The Citybank Private Bank Photography Prize 1999, na Photographers' Gallery, em Londres.
Em 2009 a exposição retrospectiva do seu trabalho, denominada Sem saída : Ensaio sobre o optimismo, teve lugar no Museu de Serralves.
A exposição Crystal Clear apresentada no Museu de Arte Contemporânea de Elvas foi nomeada para a "Melhor Exposição de Fotografia 2016", pela Sociedade Portuguesa de Autores.