Moscovo: Lords of the Ocean. Treasures of the Portuguese Empire of the 16th-18th centuries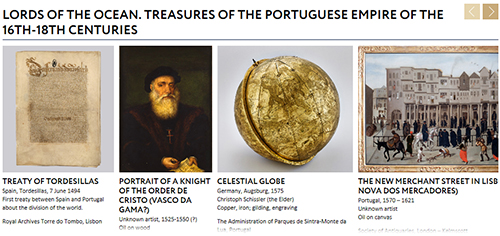 Date

08-12-2017

-

25-02-2018
Location
Url
Description
Nos Museus do Kremlin, em Moscovo, de dezembro deste ano a fevereiro de 2018, vai estar patente a exposição "Lords of the Ocean. Treasures of the Portuguese Empire of the 16th-18th centuries", e será a primeira ali realizada sobre a temática dos Descobrimentos Portugueses.
As peças, segundo os Museus do Kremlin, "vão ajudar a demonstrar, por um lado, a magnificência da corte portuguesa, as tradições de navegação, ciência e cultura. (...) Por outro lado, vão mostrar uma evidência vívida da influência mútua e das trocas culturais entre o poder metropolitano e os seus domínios na Índia, China, Japão, África e Brasil".
Portugal deteve "o primeiro império colonial do período moderno inicial, com um papel crucial na história mundial. Os portugueses foram pioneiros nas trocas de comunicação e na ligação da África e da Ásia com a Europa. Em resultado, as heranças do Ocidente e do Oriente misturaram-se, e surgiram peças de arte totalmente diferentes, únicas no seu impacto cultural", acrescenta o museu no texto sobre a exposição.
A exposição irá decorrer entre 8 de dezembro de 2017 e 25 de fevereiro de 2018.