Telavive: Conferência "Portugal, the Jews and the Portuguese Righteous During World War II"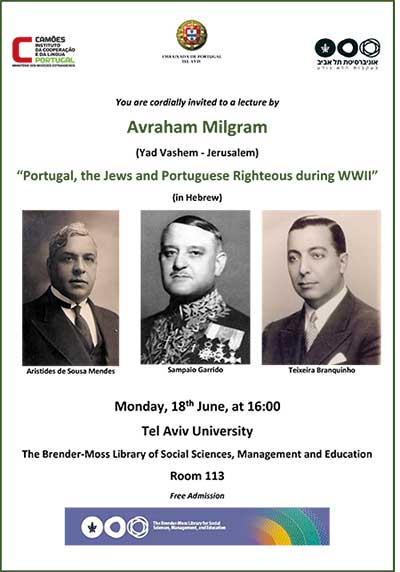 Description
No dia 18 de junho de 2018, o Dr. Avraham Milgram (Yad Vashem – Jerusalém) realizará a conferência intitulada "Portugal, the Jews and the Portuguese Righteous During World War II", integrada na exposição sobre Aristides de Sousa Mendes patente na Brender-Moss Library of Social Sciences, Management and Education da Universidade de Telavive.
Esta conferência pretende divulgar junto da comunidade académica a ação de vários diplomatas portugueses durante a II Guerra Mundial, nomeadamente no auxílio aos refugiados judeus provenientes de vários países europeus.
Esta iniciativa está a cargo do Leitorado do Camões, I.P. na Universidade de Telavive e da Embaixada de Portugal.