Telavive: Recital de Violino e Piano de Bruno Monteiro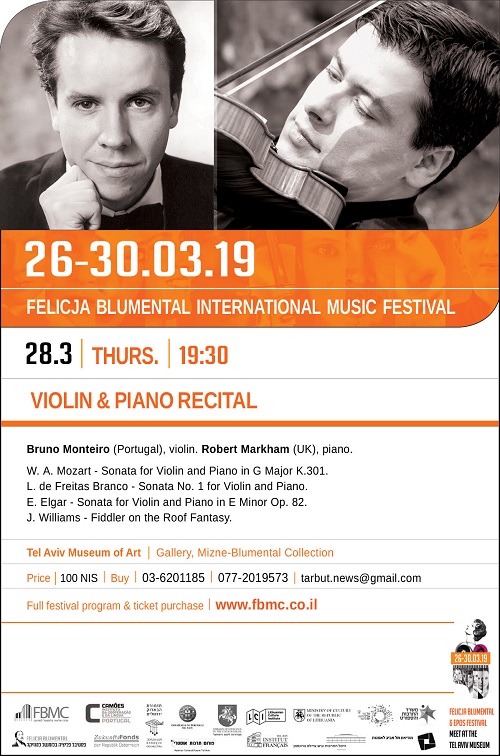 Description
Na sua estreia em Telavive, Bruno Monteiro irá participar no Festival Felicja Blumenthal, onde dividirá o palco com o pianista Robert Markhan (Reino Unido), num concerto que terá lugar no dia 28 de março de 2019, às 19h30, no Tel Aviv Museum of Art.
Bruno Monteiro realizou os seus estudos musicais na Manhattan School of Music de Nova Iorque com Patinka Kopec (professora associada a Pinchas Zukerman), Isidore Cohen (ex-violinista do Juilliard Quartet e do Beaux Arts Trio) e com membros do American String Quartet como bolseiro da Fundação Calouste Gulbenkian e do Centro Nacional de Cultura, tendo-se aperfeiçoado em seguida em Chicago com Shmuel Ashkenasi (ex-líder do Vermeer Quartet) como bolseiro do Ministério da Cultura e da Fundação para a Ciência e Tecnologia.
O violinista foi convidado pelos organizadores do Festival e pela Embaixada de Portugal em Telavive, com o apoio do Camões, I.P.
Site do Festival Feljcia Blumenthal – https://en.fbmc.co.il/festival/