Ancara: Exposição "Connecting to Portugal and to the Portuguese Speaking World – a Modern and Contemporary Art Exhibition"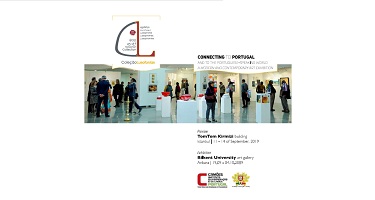 Date

19-09-2019

-

04-10-2019
Location
Description
A Embaixada de Portugal em Ancara, com o apoio do Camões, I.P., em associação com a Perve Galeria, traz à Turquia a exposição "Connecting to Portugal and to the Portuguese Speaking World – a Modern and Contemporary Art Exhibition".
A exposição, que conta com trabalhos originais de 65 dos mais prestigiados artistas portugueses e lusófonos – Cruzeiro Seixas, Fernando Lemos, Júlio Pomar, Mário Cesariny, Alberto Pimenta, Rui Simões, Válter Hugo Mãe, Marcello Grassmann, Salette Tavares, Malangatana, Paulo Kapela, Tchalé Figueira, Francisco Amaral Rego, José Chambel, entre muitos outros – será apresentada ao público turco em Istambul, entre os dias 11 e 14 de setembro de 2019, e em Ancara, entre os dias 19 de setembro e 4 de outubro de 2019.
Será a primeira vez que uma exposição deste tipo é organizada na Turquia – uma verdadeira mostra de arte moderna e contemporânea, abarcando um espaço temporal de grande dimensão (dos anos 1950 até aos dias de hoje), uma geografia de enorme diversidade (todos os países membros da CPLP, e ainda Goa e Macau, representados).
A exposição, com curadoria de Carlos Cabral Nunes, que em Istambul conta com o apoio de Krea-Optilon, TomTom Design Hood e Contemporary Istanbul, e decorre ainda em paralelo com a Bienal de Istambul, patente no espaço TomTom Kirmizi, no famoso bairro Cihangir, o coração da grande metrópole turca. Em Ancara, a exposição ocupará por completo a galeria da Faculdade de Artes, Design e Arquitetura da Universidade Bilkent, principal entidade patrocinadora do evento na capital do país.
Esta grande mostra distingue-se também pela diversidade de materiais e processos criativos em exibição: da pintura à fotografia, passando pelo vídeo e pela performance.
A exposição contará com a participação do multifacetado Manuel João Vieira, um dos nomes mais relevantes da sua geração de criadores, e de Pedro Amaral, cofundador do coletivo Borderlovers, que para além de verem alguns dos seus trabalhos em exposição, estarão in loco a criar, trabalhando um conjunto de performances que, sem dúvida, tornarão este evento ainda mais especial.
Ancara: Bilkent Universitesi, Guzel Sanatlar Mimarlik FD binasi, FADA, Bilkent, Ankara – Turkiye