Estocolmo: Palestra com Luis de Miranda e Peter Knudsen - "How to Write the Book of your Life"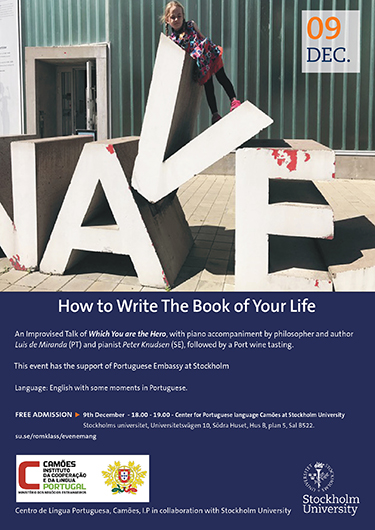 Description
O investigador Luis de Miranda (Universidade de Örebro) e o compositor e pianista de jazz, Peter Knudsen, realizam, no dia 9 de dezembro de 2019, entre as 18h00 as 19h00, uma palestra improvisada que intitularam How to Write the Book of your Life.
Organizada pelo Centro de Língua de Portuguesa, na Universidade de Estocolmo, com o apoio da Embaixada de Portugal na capital sueca, o evento, em língua inglesa e de entrada livre, pretende abordar conceitos como a inspiração, aleatoriedade, intencionalidade e criatividade.
Para isso, Luís de Miranda, utilizará 20 palavras lançadas pelo público presente e improvisará um discurso em torno dessas palavras acompanhado ao piano por Peter Knudsen.