Ancara: Exposição "a Timeline for the Future", de Carlos Cabral Nunes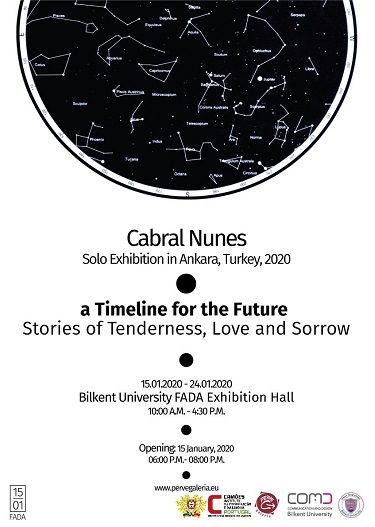 Date

15-01-2020

-

24-01-2020
Location
Description
Carlos Cabral Nunes, reputado artista e curador português, apresentará, em Ancara, nas instalações da Galeria FADA da Universidade de Bilkent, a exposição individual "a Timeline for the Future – Stories of Tenderness, Love and Sorrow".
Esta exposição é organizada pela Perve Galeria em colaboração com a Universidade de Bilkent.
Os trabalhos estarão patentes ao público, na Galeria FADA, entre os dias 15 e 24 de janeiro de 2019.
A Embaixada de Portugal em Ancara e o Leitorado de Português do Camões I.P. na Universidade de Ancara têm o prazer de se associar a este evento.