Windhoek: Palestra e debate "Engaging in informal neighbourhoods: the role of architecture", com o arquiteto Paulo Moreira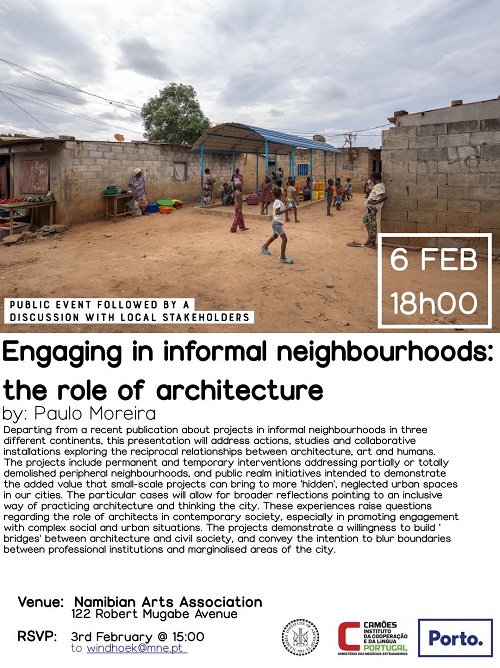 Description
A Embaixada de Portugal na Namíbia e o Instituto de Arquitetos da Namíbia organizam, no dia 6 de fevereiro 2023, às 18h00, na Namibian Arts Association, em Windhoek, na Namibia, uma palestra e debate subordinados ao tema "Engaging in informal neighbourhoods: the role of architecture".
Esta palestra, seguida de debate com arquitetos e ativistas namibianos, bem como com organizações que trabalham esta problemática, tem como convidado principal Paulo Moreira, arquiteto português licenciado na Faculdade de Arquitetura da Universidade do Porto e doutorado pela London Metropolitan University.
Em 2011, Paulo Moreira fundou o atelier Paulo Moreira architectures, onde desenvolve projetos de arquitetura e de investigação, sobretudo em reabilitação de edifícios e em contextos de conflito urbano e segregação social. É cocoordenador do Observatório da Chicala, um projeto de investigação sediado no Departamento de Arquitetura da Universidade Agostinho Neto, em Luanda. Os seus trabalhos têm sido apresentados em conferências, publicações e exposições internacionais. Editou, em 2022, a obra Critical Neighbourhoods – The Architecture of Contested Communities (2022, Park Books).
Participou na Bienal de Veneza (2014, 2016, 2021), na Trienal de Arquitetura de Lisboa (2007, 2013), e na Bienal de Arquitetura de Oslo (2016, 2019). Recebeu vários prémios e distinções, incluindo o Prémio Távora em 2012, o Prize for Social Entrepreneurship (London Met, 2009) e o Noel Hill Travel Award (American Institute of Architects - UK Chapter, 2009).
Esta atividade conta com apoio do Camões, I.P.