Botswana
2015
Música
GABORONE | 23-04-2015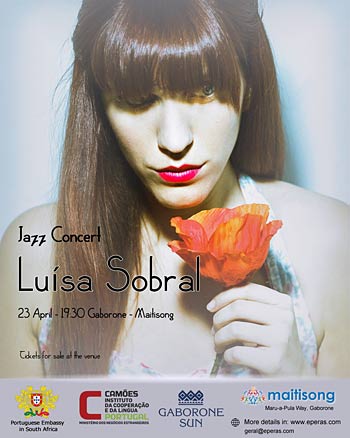 Concerto da cantora de jazz Luísa Sobral
A cantora de jazz portuguesa, Luísa Sobral, deu um concerto dia 22 de abril em Joanesburgo (África do Sul) e no dia 23 em Gaborone (Botswana).
Em Joanesburgo o concerto realizou-se no Basseline, em Newtown e em Gaborone no Thapong Visual Arts Centre, em Village, inserido no Maitisong Festival.
A cantora seguiu depois para Windhoek (Namíbia) onde deu um concerto, no dia 25, e para Harare (Zimbabwe) onde participou no HIFA (Harare International Festival of the Arts) nos dias 29 e 30.
Organização: Embaixada de Portugal em Pretória
Apoios: Camões, I.P. e Consulado-Geral de Portugal em Joanesburgo