Cáceres: Margarida Garcia e Manuel Mota no XXIII Ciclo de Música Contemporânea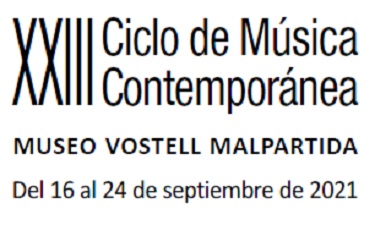 Description
Vai decorrer nos próximos dias 16, 17, 18, 23 e 24 de setembro de 2021, no Museu Vostell Malpartida (Malpartida de Cáceres, Espanha), o XXIII Ciclo de Música Contemporânea.
Mantendo a linha estética que caracteriza este ciclo, destaca-se o concerto inaugural "Skeletons Fighting for the Body of a Hanged Man", no dia 16 de setembro, pelas 21h00 locais, que estará a cargo dos portugueses Margarida Garcia e Manuel Mota.
O "Ciclo de Música Contemporânea" trata-se de um evento musical com longa tradição e que pretende homenagear a música de vanguarda, sendo atualmente coproduzido pelo Centro Nacional de Difusión Musical del Ministerio de Cultura y Deporte e pelo Consorcio Museo Vostell Malpartida, Consejería de Cultura e Igualdad de la Junta de Extremadura e pelo Ayuntamiento de Malpartida de Cáceres, com a colaboração do Gabinete de Iniciativas Transfronterizas, Amigos del Museo Vostell Malpartida e do Camões - Instituto da Cooperação e da Língua, I.P., através do Camões - Centro de Língua Portuguesa na Universidade da Estremadura.
Consulte mais informação sobre o evento aqui.