Maputo: Ângela Ferreira apresenta exposição "Pau a Pique", na Galeria Arte de Gema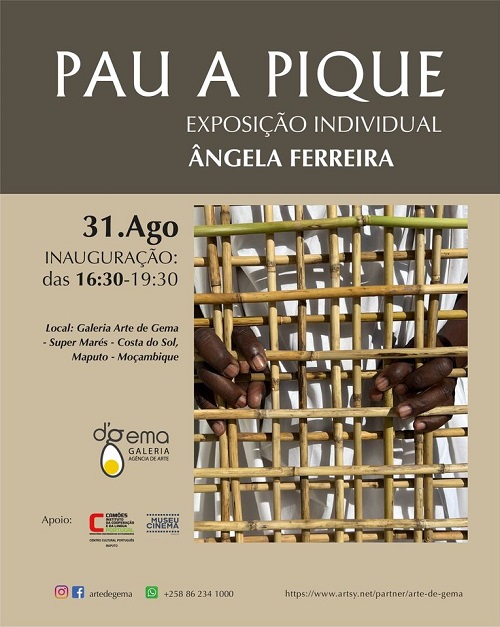 Date

31-08-2022

-

30-10-2022
Location
Description
A Galeria Arte de Gema, em Maputo, promove uma exposição individual da artista Ângela Ferreira, intitulada "Pau a Pique", que estará patente de 31 de agosto a 30 e outubro de 2022.
De um percurso de leitura que vai da desconstrução da tessitura do abrigo, perpassando a subjugação colonial até a defesa dos direitos da mulher, a artista parece convocar-nos a revistar o passado, na ideia de romper com o silêncio sobre a história, propondo-nos uma viagem através de referências como o antigo edifício do mercado de escravos em Lagos, no Algarve, Portugal, e figuras como Jorge Ben Jor ou Josina Machel.
Biografia da artista:
Ângela Ferreira nasceu em 1958, em Maputo, Moçambique. Concluiu os estudos de Artes Plásticas na África do Sul, obtendo o grau de mestre na Michaelis School of Fine Art, University of Cape Town. Atualmente, vive e trabalha em Lisboa, e leciona na Faculdade de Belas Artes de Lisboa, onde obteve o doutoramento em 2016. O trabalho de Ângela Ferreira desenvolve-se em torno do impacto do colonialismo e pós-colonialismo na sociedade contemporânea. Estas investigações são guiadas por uma pesquisa profunda e pelo filtrar de ideias que conduzem a formas concisas, depuradas e evocativas. Representou Portugal na 52.ª Bienal de Veneza, em 2007, onde continuou as suas investigações sobre a forma como o modernismo europeu se adaptou, ou não, às realidades do continente africano, traçando a história da Maison Tropicale, de Jean Prouvé. É ainda a arquitetura que serve de ponto de partida para o aprofundamento da sua longa pesquisa em torno do apagamento da memória colonial e a recusa da reparação, que encontra a sua mais complexa materialização na obra A Tendency to Forget (2015), focando o trabalho etnográfico do casal Jorge e Margot Dias. Pan African Unity Mural (2018), exibido no Maat Museum Lisboa e no Bildmuseet, Umea, Suécia, foi concebido, retrospetiva e introspetivamente, para o "aqui" e o "agora". Além da sua própria trajetória, outras histórias biográficas são simultaneamente narradas, expostas e escondidas neste trabalho. Em Dalaba, Sol'Exil (2019), um trabalho focado em Miriam Makeba, uma das mais proeminentes figuras contra o apartheid, Ângela Ferreira cria várias esculturas baseadas em elementos arquitetónicos da casa de exílio onde Makeba viveu em Conakri, quase como um protótipo da relação entre o modernismo e a arquitetura vernacular africana. As suas homenagens escultóricas, sonoras e videográficas têm continuamente referenciado a história económica, política e cultural do continente africano, ao recuperar a imagem e obra de algumas figuras inesperadas como Bob Dylan, Peter Blum, Carlos Cardoso, Ingrid Jonker, Jimi Hendrix, Jorge Ben Jor, Diego Rivera, Miriam Makeba, Angela Davis ou Forough Farrokhzad.
Dos seus trabalhos recentes destacam-se:
BucketsystemMustFall (2021); A Spontaneous Tour of Some Monuments of African Architecture (2021); Talk Tower for Forough Farrokhzad (2020); Angela (2020); Power Structures (Crouch-touch-pauseengage) (2020); Dalaba: sol'Exil (2019); Pan African Unity Mural (2018); Remining (2017); Talk Tower for Diego Rivera (2017); Boca (2016); Wattle and Daub (2016); Hollows Tunnels, Cavities and more... (2016); A Tendency to Forget (2015); Wild Decolonization (2015); Messy Colonialism (2015); Revolutionary Traces (2014); SAAL Brigades (2014); Independance Cha Cha (2014); Entrer dans la mine (2013); Mount Mabu (2013); Stone Free (2012); Political Cameras (from Mozambique séries) (2012); Collapsing Structures / Talking Buildings (2012); Cape Sonnets (2010/2012); For Mozambique (2008).