Goa e Pangim: Curso sobre o Património de influência portuguesa na região do Índico e lançamento de livros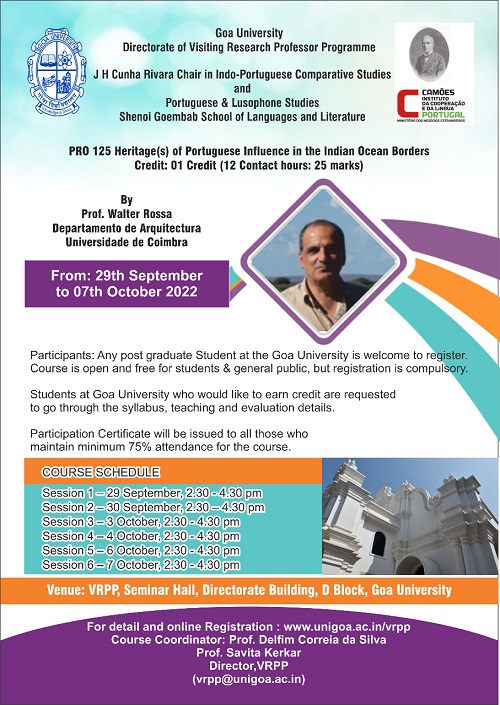 Description
As atividades da Cátedra Joaquim Heliodoro da Cunha Rivara do Camões, I.P., inaugurada na Universidade de Goa em 2016, regressam ao modo presencial com o curso Heritage(s) of Portuguese Influence: insights on the Indian Ocean shores, ministrado por Walter Rossa, professor do Departamento de Arquitetura da Universidade de Coimbra. O curso, que decorre de 29 de setembro a 7 de outubro de 2022, dirige-se a alunos da Universidade de Goa, sendo também aberto, em regime livre, ao público em geral.
Para além das seis sessões do curso, os alunos terão ainda a oportunidade de assistir a palestras e ao lançamento de dois livros. Uma das obras lançadas será Heritage & Defence: Goa 1510-1660, de Nuno Lopes, investigador e coordenador da Cátedra UNESCO em Diálogo Intercultural em Património de Influência Portuguesa da Universidade de Coimbra. A obra será apresentada ao público goês no dia 1 de outubro, no Camões - Centro de Língua Portuguesa em Pangim.
Está também previsto o lançamento do livro Traces on the Sea: Portuguese Interaction with Asia, editado Delfim Correia da Silva - leitor do Camões, I.P. em Goa - e Robert S. Newman. A obra reúne ensaios dos cinco professores visitantes da Cátedra Cunha Rivara: Ângela Barreto Xavier, Amélia Polónia, Hugo Cardoso, Walter Rossa e Susana Sardo.