Windhoek: Exibição do filme "Batida de Lisboa", no European Union Film Festival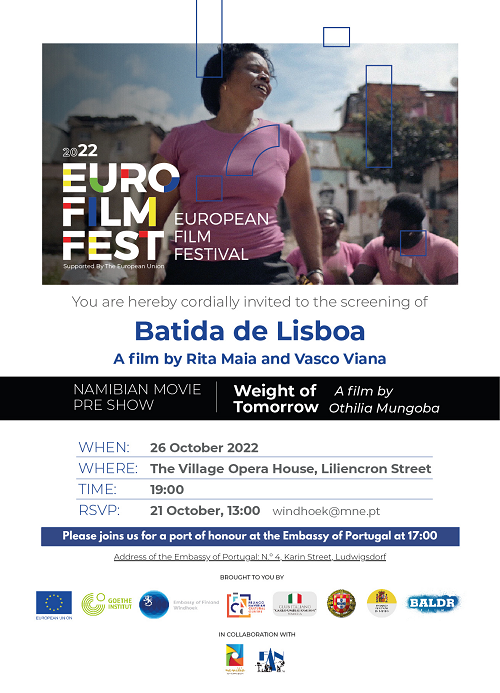 Date

26-10-2022

-

26-11-2022
Location
Description
Terá lugar no dia 26 de outubro de 2022, às 19h00, a exibição do filme "Batida de Lisboa", de Rita Maia e Vasco Viana, inserido no European Union Film Festival, no Village Opera House, em Windhoek, na Namíbia.
A edição de 2022 deste festival de cinema, que decorrerá de 5 de outubro a 30 de novembro de 2022, apresentará todas as quartas-feiras, um filme escolhido por um dos Estados-membros ou Organizações que participam no evento, antecedido de algumas curtas-metragens produzidas na Namíbia. A temática escolhida para 2022 foi Youth in Diversity: Our Shared Roots for a Better Tomorrow, tendo a seleção de filmes sido feita com base na mesma.
O filme "Batida de Lisboa", escolhido pela Embaixada de Portugal em Windhoek, versa acerca da dificuldade de definir diferentes "identidades", bem como reflete uma Lisboa culturalmente rica e diversa. O short-film namibiano escolhido para anteceder a exibição do filme português foi "Weight of Tomorrow", de Othilia Mungoba, o qual retrata a vida e as dificuldades de um jovem namibiano desempregado que viaja em busca de novas e melhores oportunidades.
O European Union Film Festival é um festival de cinema europeu que se realiza anualmente, em Windhoek, contando com a participação da Delegação da União Europeia na Namíbia, das Embaixadas de Portugal, de Espanha e da Finlândia em Windhoek, do Goethe Institut, do Franco Namibian Cultural Centre, do Club Italiano Namibia e do BALDR Film, no âmbito do domínio artístico de Cinema.
Colaboram ainda neste evento a Namibia Film Comission e a Filmmakers Association of Namibia, bem como a JAM Events, responsáveis por grande parte da organização logística do evento.
A entrada no evento é livre.
Programa completo aqui.