Brasília, Rio de Janeiro e São Paulo: Lançamento do livro "Pessoa: uma biografia" com a presença de Richard Zenith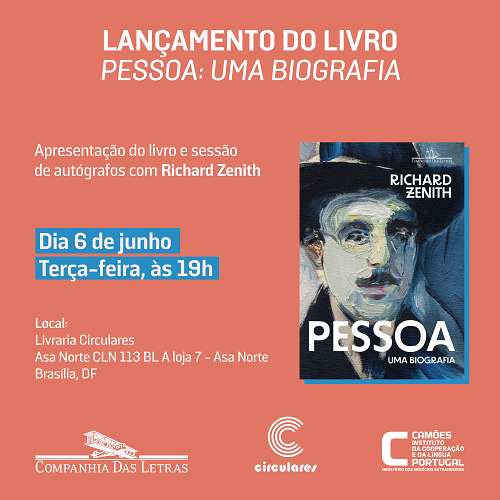 Date

06-06-2023

-

11-06-2023
Description
Entre os dias 6 e 11 junho de 2023, o escritor Richard Zenith vai participar em eventos de lançamento do livro "Pessoa: uma biografia" nas cidades de Brasília, Rio de Janeiro e São Paulo
Com o apoio do Camões – Centro Cultural Português em Brasília, em parceria com a Companhia das Letras, o tradutor e biógrafo de Fernando Pessoa apresentará o livro na Livraria Circulares, em Brasília e na Livraria da Travessa – Shopping Leblon, no Rio de Janeiro, nos dias 6 e 7 de junho, respetivamente.
O autor vai participar também da programação de "A Feira do Livro", que acontece de 7 a 11 de junho, no Pacaembu, em São Paulo. No dia 10 de junho, às 15h00, Richard Zenith vai participar também numa mesa sobre Fernando Pessoa, ao lado de Paulo Werneck, curador da Feira. A mediação é de Lira Neto.
Sobre a obra
Se levássemos em conta todos os personagens fictícios que povoaram a mente de Fernando Pessoa, o número ultrapassaria a marca dos cem nomes. Ainda que três deles — Alberto Caeiro, Ricardo Reis e Álvaro de Campos — se tenham destacado como seus heterónimos mais prolíficos e celebrados, esse dado revela a intensa vida interior de um poeta que foi regido por uma imaginação pulsante e irrefreável.
Ao longo de mais de três décadas, Richard Zenith notabilizou-se como um dos mais respeitados especialistas na obra do autor de Mensagem. Em "Pessoa: uma biografia", o norte-americano radicado em Lisboa empreende uma pesquisa monumental nos mais de 25 mil papéis deixados pelo poeta, combinando prosa saborosa e vasta erudição.
Finalista do prêmio Pulitzer 2022 e eleito um dos melhores livros do ano por publicações como The New York Times, The Spectator, The New Statesman, Kirkus Reviews e Publishers Weekly, "Pessoa: uma biografia" é um tour de force da história cultural e das biografias literárias. Uma verdadeira obra-prima.
Sobre o escritor
Richard Zenith nasceu em Washington, DC, nos E.U.A. em 1956, e vive desde 1987 em Lisboa. Considerado um dos principais especialistas na obra de Fernando Pessoa, é escritor, tradutor, pesquisador e crítico. Em 2012, foi laureado com o Prémio Pessoa.