4th Meeting of the Portuguese Education Network Abroad
Published: Tuesday, 23 July 2019 16:01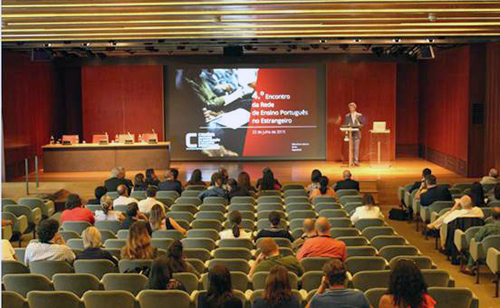 The 4th Meeting of the Portuguese Education Network Abroad (EPE), this year dedicated to "The Evaluation in the context of Portuguese Education Abroad" was held on the 22nd of July 2019, in Lisbon, at the Calouste Gulbenkian Foundation, that joined this event again, where more than 100 teachers participated.
The opening session included the participation of the Administrator of the Calouste Gulbenkian Foundation, Guilherme d'Oliveira Martins, the Presidente of Camões, I.P., Luís Faro Ramos, the Secretary of State of Education, João Costa and the Minister of Foreign Affairs, Augusto Santos Silva.


Russel Stannard was the first international guest speaker in an event that included presentations from Susana Correia; Camões, I.P. Language Services Directorate; Spain and Andorra teaching coordinations; Patrick Rebuschat, Joana Moscoso; publisheres LIDEL and Porto Editora; and the Luxembourg, Belgium and the Netherlands teaching coordination.
The closing session was held by the Secretary of State of Portuguese Communities, José Luis Carneiro.