Mexico: Signature of Cooperation Protocol between Camões, I.P. and the Bachirellato School of Universidad Latina de América
Published: Tuesday, 20 August 2019 16:53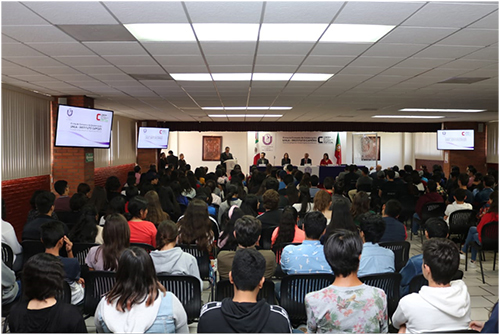 The signature of a cooperation protocol between Camões, I.P. and the Bachirellato School of Universidad Latina de América (UNLA) for the implementation of curricular Portuguese classes, took place on the 20th of August 2019, in Morelia, Mexico. The signature was held at UNLA in the presence of the Mayor of the City of Morelia, Raúl Morón, as representative of the Governor of the State of Michoacán.
The President of Camões, I.P., Luís Faro Ramos, was represented by the Ambassador of Portugal in Mexico, Jorge Rozas de Oliveira. The Rector of UNLA, Mariana Sosa de Olmeda signed the protocol for the Bachirellato School.
Under the framework of this protocol, UNLA is the first and only school in Mexico to lecture Portuguese in secondary education. Classes will be lectured by professors supported by Camões, I.P. under the supervision of Maria Helena Caseiro da Silva, teacher and Coordinator of the Portuguese Programme.
At the end of each learning level, the Camões Júnior Certification exam will be held, allowing students to complete their studies.