Other countries
Co-operation relations between Portugal and other countries
Current situation
Co-operation in Numbers
Official development assistance 2013 – 2017 - Other Countries
In addition to the geographical concentration in Portuguese-speaking African Countries (PALOP) and Timor-Leste, Portugal develops co-operation activities in other developing countries – hereby referred to as 'Other Countries'. This analysis includes the distribution of ODA to this group of countries, excluding the five PALOP countries, Timor-Leste and regional groups.
Between 2013 and 2017, Portuguese ODA to 'Other Countries' averaged 22 M€, equivalent to 12% of the average bilateral ODA disbursed in that period. In 2017, aid for this group of countries stood at 26 M€, confirming the growing trend of the last years.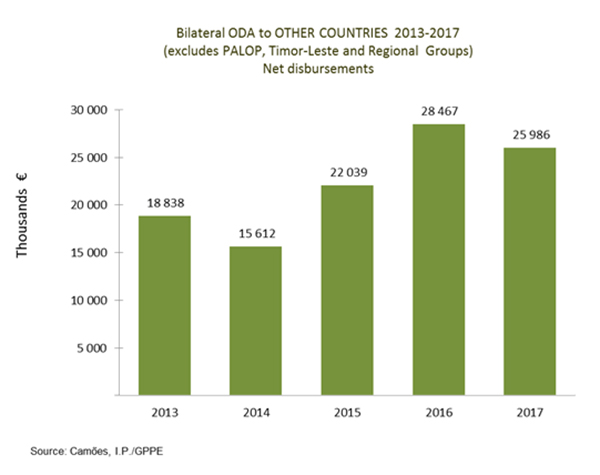 The geographical distribution of bilateral aid for the 'Other Countries' group between 2013 and 2017 was mainly centered on Asia (49%) e Africa (33%), due largely to the weight of Morocco and South Africa. The new political priorities for widening to other geographies had started in 2016, reinforced the presence of Portuguese Cooperation in Colombia and Senegal, placing these countries respectively in the 9th and 10th places in the ranking of beneficiaries of bilateral net ODA.
The Asian continent was the main destination, as a result of the use of a concessional line of credit by China (in spite the drop in 2017), of the humanitarian and emergency aid to refugees in Syria, and of the participation of Portuguese security forces in international peacekeeping missions in Afghanistan.
Central and South America received 17% of the aid, mainly through cooperation with Brazil, Venezuela, Cuba, Argentina (Education and Culture sectors), and Colombia (through the Participation in the UN mission for monitoring of the cease-fire agreement in the country and through the EU Trust Fund in support of Colombia's post-conflict peace building efforts). Developing countries in Europe benefited from 1,2% of bilateral ODA, with Kosovo (Portuguese participation in peacekeeping missions) and Serbia and Montenegro (Education and Culture sectors) being the main destinations.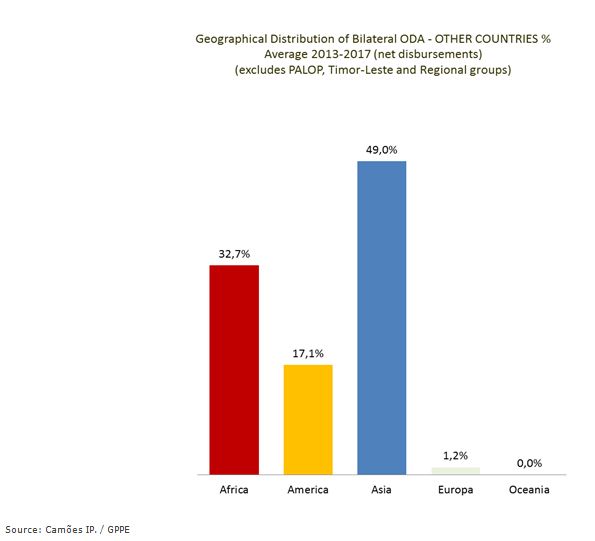 China has risen to a prominent position as one of the main beneficiaries in the 'Other Countries' group, receiving, on average, 5,76 M€ between 2013 and 2017, in result of the use of a concessional line of credit for capital goods and services. It follows Morocco (4,13 M€) concerning contributions to strengthening macroeconomic and financial stability through support to the Balance of Payments, Syria (3,79 M€), Brazil (2,82 M€) and South Africa (1,16 M€) The remaining countries are below the average of 1 M€.