Other countries
Co-operation relations between Portugal and other countries
Current situation
Co-operation in Numbers
Portuguese Official Development Assistance to Other Countries 2014-2018
In addition to the geographical concentration in Portuguese-speaking African Countries (PALOP) and Timor Leste, Portugal develops co-operation activities in other developing countries – hereby referred to as 'Other Countries'. This analysis includes the distribution of ODA to this group of countries, excluding the five PALOP countries, Timor Leste and regional groups.
Between 2014 and 2018, the Portuguese ODA to 'Other Countries' corresponded, on average, to 22M€, which is equivalent to 17% of the average bilateral ODA disbursed in that period. In 2018, aid for this group of countries stood at 19,8M€, maintaining the downward trend of the previous year.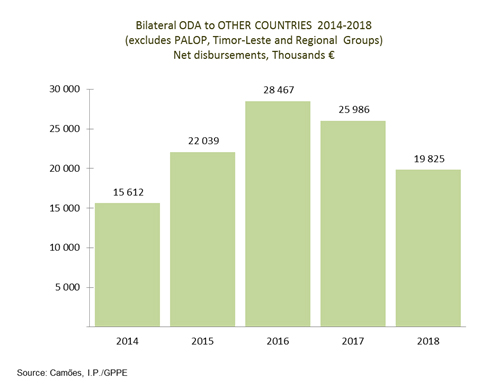 In terms of geographical distribution, between 2014-18, aid was mostly concentrated in Asia (46,2%) and Africa (35,7%). The policy of extending ODA to other geographies, initiated in 2016, reinforced the presence of Portuguese Cooperation in Colombia and Senegal, having rated respectively, in the 7th and 10th places in the ranking of other countries benefiting from bilateral net ODA.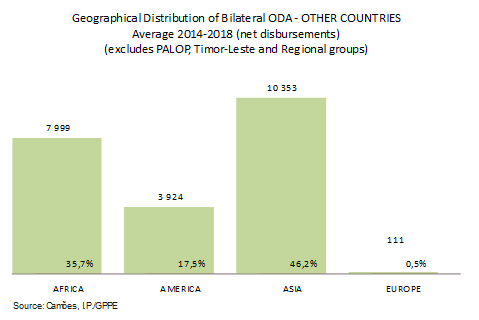 The Asian continent was the main destination of ODA, as a result of China's use of a concessional credit line (until 2017) and projects in Education and Culture sectors with Macau, humanitarian and emergency aid to refugees in Syria , and the participation of Portuguese security forces in international peacekeeping missions in Afghanistan.
Central and South America received 17,5% of aid, essentially through cooperation with Brazil, Venezuela, Cuba and Argentina (Education and Culture sectors), and Colombia (through participation in the UN Verification Mission of the Ceasefire Agreement in the country, the EU Fund for the Peace Process and the support for Rural Development for the production and marketing of cocoa). The developing countries in Europe benefited from 0,5% of bilateral ODA, with Kosovo (Portuguese participation in peacekeeping missions) and Serbia and Montenegro (Education and Culture) the main destinations.