Cooperation programme for institutional reinforcement in Angola's health sector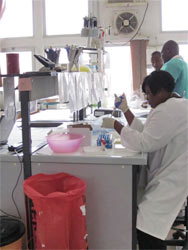 DAC Sector: Health, health policy and administrative management
Global aim
Support the creation of an advanced laboratory in Luanda to help upgrade David Bernardino Hospital into a national pediatrics hospital, with post-graduate training for doctors specialised in public health, as well as helping to build a national public health laboratory for the control of infectious diseases. Other aims include assisting the maintenance of hospital buildings and their equipment in Luanda, reorganising the nursing services and training the trainers, structuring a public health school in Luanda, post-graduate training of physicians specialised in public health care, general practice, family medicine and mental health and structuring a burns unit.
Millennium Development Goals
Goal 4 – Reduce child mortality; improve maternal health.