Support to the Mozambique Home Office (MINT)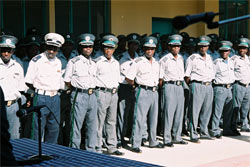 DAC Sector: Government / Government administration

Global aim
Capacity building and institutional strengthening of the Ministry of Justice and modernisation of the legal and judicial systems in Mozambique with a view to improving the rule of law and good governance, the essential pillars of democracy.
Partners
Portuguese Home Office
Camões Instituto da Cooperação e da Língua, I.P.
Mozambican Home Office
Executor
Camões Instituto da Cooperação e da Língua, I.P.
Total budget
(2010-2014) - 8.116.800,00€ / Camões, I.P. funding (2010-2014) – 1.800.000,00€
Latest Developments
The operational phase of the project was originally scheduled to take place over 36 months between the 7th of July 2010 and the 7th of July 2013. Two extensions were added, the first extending its operational implementation until the 4th of June 2014 and the second and final extension finishing on the 4th of December 2014.
The project is estimated to be 96% complete with the defined aims considered to have been achieved with respect to i) reinforcing MINT's capacity for intervention with regular technical assistance and regulatory documentation drawn up in several areas, some of which still lack approval for their implementation, (ii) the facilities of the Matalane Police School have been rehabilitated, (iii) Criminal Investigation Police stations have been established (3 out of 5 are delayed due to MINT undergoing problems with the execution of contracted work), (iv) a computer system has been installed and connected to every province with the aim of establishing a national criminal information network and (v) materials have been produced and information distributed about security services and criminal prevention.