Mozambique
Co-operation relations between Portugal and Mozambique
General information
Official name: Republic of Mozambique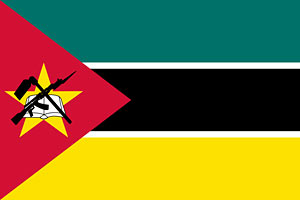 President: Filipe Nyusi (2015)
Prime-Minister: Carlos Agostinho do Rosário (2015)
Independence Day: 25 June1975
Capital: Maputo
Provinces: Cabo Delgado, Gaza, Inhambane, Manica, Maputo, Nampula, Niassa, Sofala, Tete and Zambézia
Languages: Portuguese (official); main 13 dialects: Emakhuwa, Xitsonga, Ciyao, Cisena, Cishona, Echuwabo, Cinyanja, Xironga, Shimaconde, Cinyungue, Cicopi, Bitonga and Kiswahili.
Religion: Animist, Christian (Catholic and Protestant), Islamic and Hindu.
Geography
Geographical Area: 799 390 Km2 (13 000 Km2 of territorial waters)
Climate: Tropical/Subtropical
Demography
Population: 24 million (est. 2013) (CIA)
Average rate of population growth: 2.45% (est. 2014) (CIA)
Life expectancy: 53 (est. 2014) (CIA)
Literacy rate: 56,1% (CIA)
Human development index: 178th position (2013) (UNDP)
Economic data
Currency: Novo Metical – Mtn (since 1 July 2006)
GNP per Capita: 1 200 USD (est. 2013) (CIA)
Inflation rate: 4.4% (est. 2013) (CIA)
Unemployment rate: 17% (CIA)
Growth rate: 7.5% (Est. 2013)
Main exports: Aluminum, gas, electricity, cashew nuts, shrimp, cotton, exotic wood, sugar, citrus fruits (AICEP)
Exports Portugal-Moçambique: 326,763,000€ (2013) (AICEP)
Imports Portugal-Moçambique: 62,721,000€ (2013) (AICEP)
Direct Portuguese investment: 93,300,000€ (2013) (AICEP)
Main investors: South Africa, China, Portugal, Switzerland and Germany
Other information
Portuguese Embassy in Maputo
Ambassador: Maria Amélia Paiva
Address: Avenida Julius Nyerere, n.º 720 - 12.º andar
Post Box: 4696 Maputo
Tel.: +(258) 21 490 316 / 322 / 319
Telefax: +(258) 21 491 172
E-mail: This email address is being protected from spambots. You need JavaScript enabled to view it.
Attaché/Co-operation contact: Miguel Girão de Sousa
Tel.: +(258) 21 491 616
E-mail: This email address is being protected from spambots. You need JavaScript enabled to view it.
Embassy of the Republic of Mozambique in Lisboa
Ambassador: Fernanda Eugénia Moisés Lichale
Address: Avenida de Berna, n.º 7
1050-036 Lisboa
Tel.: 21 797 19 94
Fax: 21 793 27 20
Website: http://www.mozambique.mz
Current situation

General framework
Co-operation relations between Portugal and Mozambique reflect the good political understanding that exists between the two countries based on a mutual cultural, legal and institutional matrix and specific technical expertise in key areas for development. In this way, sharing a common language allows for an easier framework for Portuguese co-operation interventions in Mozambique.
In this context, institutional co-operation between the two nations has been developed in a bilateral context through Indicative Co-operation Programmes. These are based on programmes and projects that are proposed and implemented annually with the collaboration of respective ministries, local authorities and civil organisations, especially Portuguese NGDOs either in a multilateral context in conjunction with other co-operation partners (including European Union programmes such as delegated co-operation to which Portugal also contributes) or with UN specialised agencies.
Indicative Co-operation Programme
Indicative Co-operation Programme Portugal - Mozambique 2011-2014
Co-operation in Numbers
Portuguese Official Development Assistance to Mozambique 2015-2019
Mozambique is the second largest recipient of Portuguese ODA, benefiting, on average, between 2015-2019, of 25,72M€ net ODA. In gross amounts, in this period, the average ODA for Mozambique stood at 40,40M€. A significant part corresponds to the use of a concessional credit line, which degree of utilization is exclusively determined by the partner country. This fact justifies the fluctuations recorded in total ODA. The difference between net and gross values is accentuated due to the debt forgiveness that occurs annually. In 2019, net ODA rose to the highest value in the period under analysis, when the country benefited from 23% of bilateral aid.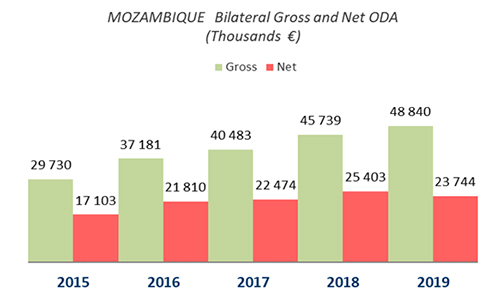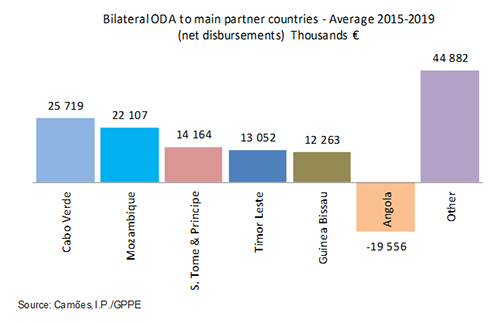 On average, the group Infrastructures and Social Services represents the largest concentration sector, with 55,1% of net ODA. Not sector allocable aid constitutes the second most significant part of net ODA between 2015-19 (37,1%), through the use of a concessional line of credit to finance projects integrated in the Mozambican development program. In 2018, there was an increase in the Tourism sector through the Portuguese Investment Support Fund in Mozambique (InvestimoZ). In 2019, to point out 4,8M€ in Humanitarian Aid following the cyclone Idai in March that year.
Projects