Angola
Co-operation relations between Portugal and Angola
General information

Official name: Republic of Angola
Capital: Luanda
President: João Lourenço
Vice-President: Bornito de Sousa
Provinces: 18 - Bengo, Benguela, Bié, Cabinda, Cuando-Cubango, Cuanza-Norte, Cuanza-Sul, Cunene, Huambo, Huíla., Luanda, Lunda-Norte, Lunda-Sul, Malanje, Moxico, Namibe, Uíge e Zaire.
Languages: Official - Portuguese; Others: Bantu, Umbundu, Kimbundu, Kikongo.
Religions: Catholic (38%); Protestant (15%); Tribal (47%).

Geography
Geographical Area: 1,246,700 Km2
Climate: Equatorial and Tropical
Demography
Population: 39.9 million inhabitants (2020 - United Nations)
Average rate of population growth: 2.72%(estimated in 2017)
Density: 23.92 hab/km2 (estimated in 2017)
Urban population: 59.2% of total population (estimated in 2013)
Most populated urban areas: Luanda: 347.6 hab/km2; Cuando Cubango: 2.6 hab/km2 (estimated in 2017)
Birth rate: 40.2 per 1,000 inhabitants. (estimated in 2018)
Death rate: 11.3 per 1,000 inhabitants (estimated in 2018)
Life expectancy: 60.2 anos(estimated in 2015)
Human development index: 149th position (2019, IDH-PNUD)
Economic data
Currency: Kwanza
Total GDP: 95.781 MUSD (2017, AICEP)
GDP per Capita: 3.320 USD (2011, AICEP)
Inflation rate: 16.9 %(2019, AICEP)
Growth rate: 4% (2017, AICEP)
Main exports: Oil, diamonds, precious stones, wood, coffee, fish, cotton, Sisal. (AICEP)
Exports - Portugal: €1.676.7m (2017, AICEP)
Imports - Portugal: €679,3m (2017, AICEP)
Direct Portuguese Investment: €950.285m (2011, Bank of Portugal and AICEP)
Main investors: China, USA, UK, India, Brazil, Spain and Portugal (2017) (AICEP)
Other information
Portuguese Embassy in Luanda
Ambassador: Pedro Pessoa e Costa, since march 2020
Address (Embassy): Avenida de Portugal, 50
Post Box: 1319 Luanda
Tel. (+244) 2 22 33 34 43/33 40 15
Fax (+244) 2 22 39 03 92
Attaché/Co-operation contact: Telmo Gonçalves
Tel. (+244) 2 22 33 34 43/ 33 40 15
Fax: (+244) 2 22 39 03 92
Site: https://www.luanda.embaixadaportugal.mne.pt
E-mail: This email address is being protected from spambots. You need JavaScript enabled to view it.
Embassy of the Republic of Angola in Lisbon
Ambassador: Carlos Alberto Fonseca, since 11st july 2018.
Address: Av. da República, nº 68
Tel. (+351) 21 782 74 60 / 21 796 70 41
E-mail: This email address is being protected from spambots. You need JavaScript enabled to view it.
Webite: http://www.embaixadadeangola.pt/
Current situation

1. General framework
Portuguese co-operation with Angola has been orchestrated through Indicative Co-operation Programmes (PIC) signed by both countries.
With a financial envelope of €65m, the 2007-2010 PIC benefited from an extension until 2014 for the purpose of continuing all the projects in Angola.
A new co-operation programme with Angola is currently being discussed, based on the guidelines mirrored in the new Strategic Concept of Portuguese Co-operation 2014-2010 and aligned with the priorities defined in the National Development Plan for Angola (PND 2013-17).
The aim of this programme is to continue co-operation with Angola, highlighting the comparative advantages that Portugal has, particularly in the areas of education and higher education, health, justice, social inclusion, culture and the environment.
2. Indicative Co-operation Programme
Here follows a breakdown of the development co-operation interventions within the framework of the indicative programme from 2007 to 2010 signed with Angola, which was extended until 2013.
Line 1 – Good governance, participation and democracy
This financial programme aimed at strengthening the institutional capacity of the Angolan Ministry of Finance through technical assistance and training in the priority areas of state patrimony, customs, public accounting, international relations, information technology and the Angolan Inland Revenue.
Technical assistance for the Angolan Ministry of Planning, which focused on territorial development and public investment as well as advising the Minister for Planning.
Historical Archive of Angola, aimed at reforming the national archive system by training local staff.
Distant Education Centre (CEAD) - an institution operated in conjunction with Agostinho Neto University in Luanda and affiliated with the World Bank's Global Development Learning Network (GDLN), an interactive network which, through the combined use of various information and communication technologies (ICTs), connects several centres around the world with the overall aim of supporting development processes through exchanging knowledge and experience.
Line II – Sustainable Development and the Fight Against Poverty
A support programme running until 2015 for improving secondary education (PARES), including the Saber Mais project, aiming to support secondary education in Angola with improved teacher training carried out by Portuguese professionals to create a stronger network of national trainers with increased responsibilities as part of an integrated strategy for upgrading the education system.
A co-operation programme with Agostinho Neto University in a range of scientific areas, including engineering, medicine, agronomy and veterinary medicine, incorporating the modernisation of curricula and the training of staff with emphasis on Portuguese language teaching and science in order to strengthen the Portuguese language in year zero.
Health projects with the aim of institutional reinforcement and improvement of health resources in the fight against endemic diseases, with emphasis on the Health Research Centre Project (CISA) which aims to contribute to improving the health of people living in the municipality of Dande through better health care. This project is still running.
Training and research in the field of agriculture and food safety comprising two programmes, one involving the training of highly skilled technicians in agronomic research and the other for supporting the preparation of the National Plan of Agrarian Development. These projects are ongoing.
Indicative Co-operation Programme
Indicative Co-operation Programme between Portugal and Angola 2007-2010 – extended until 2014
Signed on the 10th of October 2013 in Angola, this is an addendum to the Indicative Co-operation Programme 2007-2010. The signing of this document took place within the framework of the official visit of the Angolan Secretary of State for Foreign Affairs and Co-operation. This extension to the programme will reinforce the commitment of the Portuguese government in partnership with the Angola government for the sustainable development of the Republic of Angola.
Co-operation in Numbers
Official development assistance to Angola
Portuguese ODA to Angola is greatly influenced by the reimbursements related to the payment of the Angolan government debt to Portugal (started in 2009) within the framework of an agreement for the concessional restructuring of Angola's public debt to the Portuguese government, signed in 2004. The repayments (average of 25M€/year) result in negative net ODA since 2009, with the exception of 2012 and 2021. In 2021, net ODA of 14 M€ was due to the suspension of repayment following the Angolan State's request for an extension of the bilateral debt moratorium until December 2021, and the donation of vaccines as part of efforts to fight the COVID-19 pandemic.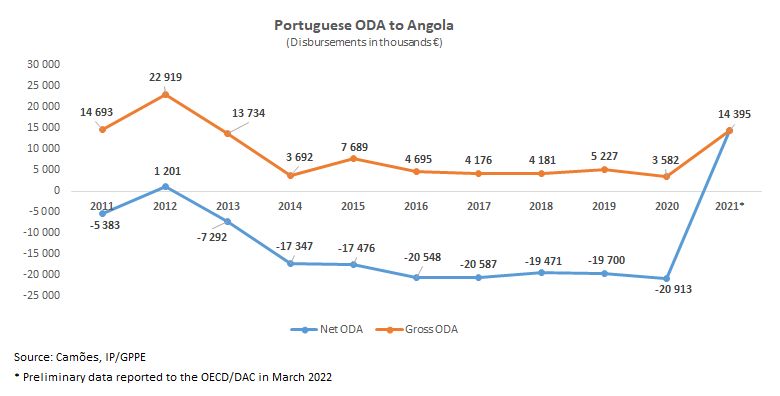 The sectoral distribution of net ODA is, thus, clearly marked by debt reimbursement figures. In 2021, there was an increase in the "Health" sector due to the donation of vaccines as part of the assistance to combat the COVID-19 pandemic.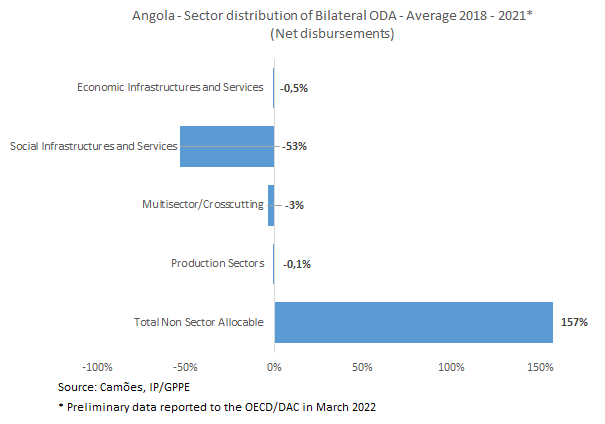 Projects